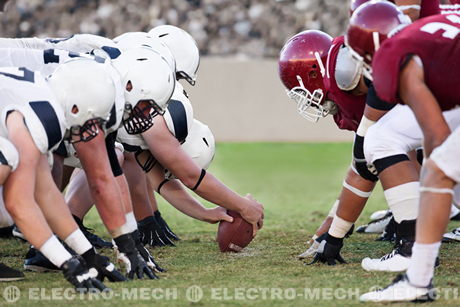 So here are the top paid NFL players who light up the football scoreboards and give the fans the most to cheer about (when they are watching them, not buying an entry ticket!.
First of all the star of all star positions, the quarterback:
1 – No surprises here as Tom Bradey makes it not only to the QB number spot in terms of payment, but to the pedestal of best paid player out of anybody in the NFL. He just made a deal worth over $72 Million over 4 years, which is $18 Million a year, plus at least $20 million a year endorsements. He is sure to light up the football scoreboards again this year. Well, he better do if he is going to justify a wage like that!

2 – It won't come as much as a surprise either that Peyton Manning comes in at number two. He is on a salary of $15.8 million a year with a total earnings (after endorsements) of $30.8 million. Whilst Peyton Manning is the second highest-paid player in the NFL, his earnings put him only in 17th place among the best paid athletes in the world, and 9th place amongst the best paid American athletes.
3 – Matthew Stafford is our third best paid QB, with a salary of $11 million, and a total of $26.5 million.
The leading LB is Terrell Suggs, who currently gets paid a total of $24.9 million per annum.
The number one DL is Albert Haynesworth, who is on $24.6 million per year after endorsements.
The best-paid WR is Darrius Heyward-Bey. He will get this year a whopping $21.5 million in total.
When it comes to the RT position, Jason Smith is the numero uno. He is on no less than $20.6 million.
So who is the best paid DE? No other than Julius Peppers! The Bears player is on $20 million a year.
The number one NT is Vince Wilfork, who receives $18.9 per annum for his efforts.
The NFL's best rewarded CB is DeAngelo Hall, who gets $18.5 million a year.
This list might surprise some fans as some of these players are not even that well known. Half of them did not even make the play offs last season. Regardless, their wage is set at the value that the coaches attribute them, and for sure the lesser know players in particular who are receiving gigantic salaries will be experiencing huge pressure this season to perform at the highest level.
For the original article, click here
For more information on large sports contracts, go to: en.wikipedia.org/wiki/List_of_largest_sports_contracts