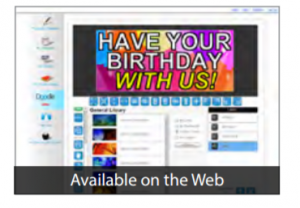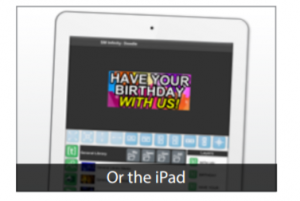 What is it?
Cloud-Based Software
SM Infinity™ resides on a central server accessible through a secure Internet connection. There is no software to load, no PC to sync with, no CDs to keep track of, and you're always using the latest version. Plus all your content is organized securely online and backed up daily.
How do I use it?
Desktop or Mobile Web Access
For desktop access, securely log in at www.sminfinity.com and start controlling the LED sign from any PC or Mac connected to the Internet. For your iPad or mini iPad, simply launch the app. Or use any other tablet or mobile device via its Internet browser.
How is it better?
Designed for a Team
Most sign-operating software is restricted to one computer via a verification code or a dongle key. Because of these restrictions, such software requires a single user to learn the interface, be the graphic artist, manage the scheduling tools, and send updates and messages to the sign with little or no help. Our software allows multiple permission-based users who can operate the sign from almost any computer, tablet, or other connected device.
What else makes it different?
Personalized Content Creation
SM Infinity™ is the only sign-industry software that includes the personal attention of professional graphic designers — standing by via an integrated request form to create custom dynamic content specifically for your LED sign. Or use Doodle™, our online message editor for a quick message. Or upload any graphics/animations you create.
Good vs. Bad Content
The Benefits of Content Creation with SM Infinity™
Digital signage can quickly become ineffective if the content is not designed correctly. Well-designed content means a better brand image — which converts into more traffic, more sales, and a more positive return on investment from the sign. Thought must go into selecting the colors, animations, fonts, and images that work best for your display.
Effective and dynamic content consists of:
PROPER SIZE: Content created specifically for the LED display matrix vs. stretching out stock graphics.
AD COPY: Concise and effective copy which quickly conveys the message or a call to action.
COLORS: Pleasing and complementary colors along with subtle motion to attract attention.
Cloudware vs. Software
FEATURES
OTHERS
Automated LED Sign Control
Automatic
Conditional Messaging:
Set conditions for specific messages. Extremely hot outside? Automatically advertise cold drinks.
Manual
Complete manual programming. No conditional options. Requires a "best guess" when scheduling.
Accessible LED Sign Control & Online Backup
Accessible
Anytime, anywhere access to your sign from any Internet connected PC, Mac, or Mobile Device. All content saved online and at the sign, no worries about lost data.
Restrictive
Control only available at the computer/office. If the PC is damaged, the content and schedules are lost and new software has to be obtained.
User Control
Built In
Easy to create new users with set privileges to control access.
Local PC Only
Multiple licenses have to be purchased for each PC with no control over privileges/access levels.
Updates
Easy
With cloudware, you're always using the latest version.
Difficult
Updates may require a call to the rep to download or get a new CD mailed out and then installed.
Features
Reliable Online Info
RSS Feeds. Accurate temperature and weather data for the area from trusted online weather stations. Ability to link to real-time live information.
Potential Hardware Errors
Temperature info from a temp probe, which may be off by as much as 10 degrees. No live information, limited new features added. No RSS or other online feeds/information.
Alerts
IPAWS READY
Integrated Public Alert Warning System from FEMA. Automatic Amber/Silver alerts — warnings for local, regional, state,
and federal emergencies direct from the authorities.
Manual Alerts
Any alerts have to be manually entered, scheduled, and sent to the display — wasting precious time and potentially providing outdated information to the public.
Content Options
Comprehensive
Professional Custom Content services available to create personalized and properly sized content specific to your organization.
Incomplete
Stock library of pre-sized generic content stretched to fit your sign. No solution for branding, specific sales, or community outreach.