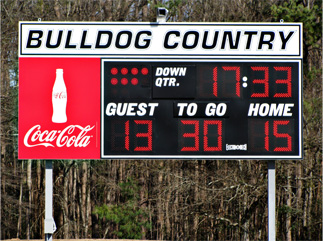 ID panels are the perfect tool for building your school or team pride by showing off your mascot and logo. They can also provide a source of long term revenue. With the fans constantly returning their focus toward the scoreboard during a game, the area around the scoreboard display is prime real estate for advertising — an effective way for businesses to get their messages to customers while showing support for the local community. Let our Sales Team guide you to develop a plan for offsetting the cost of your scoreboard purchase by turning it into a source of ongoing income.

A visually striking scoreboard package not only dresses up the stadium, it enhances the messages of the advertisers and builds fan allegiance. At Electro-Mech, we love to work with customers who see the impact a scoreboard can have on the "personality" of their facility. We have the experience and the artistic talent on staff to bring out the best in your scoreboard.
Arched and Domed ID Panels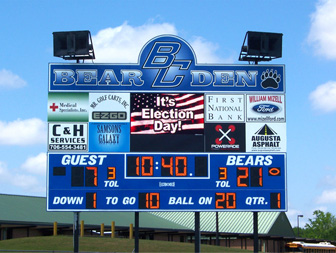 Most scoreboards we manufacture are shipped with ID panels that include advertising, facility identification, team spirit slogans, mascots, or other graphic elements. Customized architectural details like domed or arched tops can take your scoreboard package to the next level visually. Whether you are designing a brand new professional stadium or upgrading an old community park or gym, it is important to choose equipment that makes the right statement. Let us help you build your identity by creating a custom set of ID panel options to suit your unique needs.

Decorative Truss Structures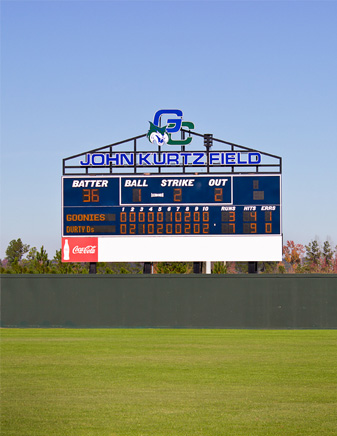 The unusual open look of a truss design conveys a sense of strength while adding an architectural flourish to your scoreboard package. Whether unadorned, with non-backlit lettering, or with dramatic backlit graphic elements such as channel letters, a decorative truss can be the visual enhancement that sets your scoreboard apart from all others. Our custom truss structures are available for all permanently mounted indoor and outdoor scoreboard models. Talk to your Electro-Mech sales representative about using the unique style of a truss to add visual excitement to your scoreboard.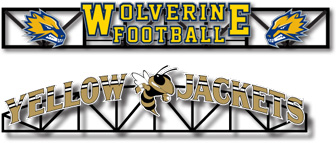 Rectangular Truss
Structure
Pitched Top Truss
Structure
Arched Top Truss
Structure