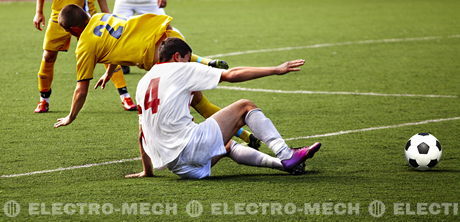 In a soccer scoreboards feature, we look at the most famous soccer jersey numbers in the game, pat and present.
Soccer is such an influential game that many fans follow everything that the famous players do. Some die hard fans even celebrate their favorite player's birthdays, and try to copy their lifestyle. They buy jerseys worn by their favorite players and think of the jersey number as their lucky number. Here are some famous soccer jersey numbers worn by famous players

1.Number 10
The Jersey number 10 is now worn exclusively by the greatest players. The soccer scoreboards showed that it was worn by the legends of the game, Pele, Maradona, Zidane are only a few to name, and now it is worn by Lionel Messi, Kaka, Ronaldinho, Rooney etc. Jersey number 10 is now regarded as a legacy and is given to only those who deserve this honor. Players like Messi, Kaka, Rooney and Ronaldinho certainly are the deserving ones as they brought laurels for their respective countries. Players who wear number 10 are regarded as great players who have changed the game in some way, and who raised the bar of the game for the future.
2.Number 7
Number 7 is worn by Cristiano Ronaldo of Portugal. Ronaldo is known as one of the best players in the world. Although some people think that he is overrated and that fans love him more for his looks and because he has the same name as Brazil's Ronaldo. I disagree though; Ronaldo is a great player and has brought a lot to the game of soccer. David Beckham, when started his career also wore the number 7 jersey, but he does not wear the same number now.
3.Number 23
Two players come to mind when you hear or see the number 23; Michael Jordan and David Beckham. Beckham, after moving to Real Madrid, wore the number 23 jersey as a tribute to Michael Jordan. He wears the same number when he plays his the national team, England.
4. Number 9
Though this number is not famous right now, at one point in time it was. Number 9 was worn by the Brazilian footballer, Ronaldo. He has now made way for the greats of Messi and Cristiano Ronaldo but he was outstanding in his day. He was a part of the Brazilian winning team in thew 2002 World Cup.
For more information, go to: en.wikipedia.org