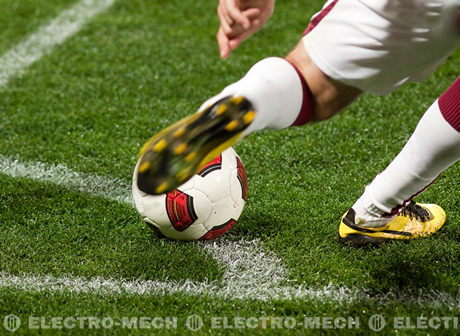 There is no denying that corporate sports sponsorships have evolved into big business on a global scale. A winning team name that is associated with a hot corporate sponsorship logo equates to a win-win in more ways than one. This means that the team jersey that dons both titles becomes some of the highest price, per square inch, real estate in the world.
Almost every hot team is now seeking (or being sought out) by a corporate sponsor, and these are some of the biggest and most recognized names. There are some teams, such as Barcelona, that went against the tide and avoided sponsorship for over 113 years; but last year, they caved in to the pressure with a jersey deal with Quatar Airlines. We know that sponsor will be on the electronic scoreboard display!

One might wonder how team sponsorships translate into the amount of money invested and who are the trend setters that are negotiating these deals. On the high side, the top record was set with Chevrolet shelling out $559 million for Manchester United. While this might sound like a success, in this case, there was down side in the contract terms, resulting in a misrepresentation to GM management and a loss of job for GM's CMO, Joel Ewanick. This is one case that proved how serious the business of corporate sponsorship really is.
Just because you have a winning team name doesn't mean all is equal. Two of the secondary deals for corporate jersey sponsorship came in quite a bit below the Manchester deal. Bwin, the European sports gambling site signed a $29 million-per-year-deal with Real Madrid (the top contender in the highest value soccer team) with Samsung plunking down $28.6 million for Chelsea.
There are some noteworthy deals that are still on the negotiating table, including a $640 million, ten-year arrangement between Etihad and Manchester City and a $240 million, five-year deal between the Emirates and Arsenal. The later also includes some rights regarding stadium naming, which, is considered separately from the jersey deal. I am sure, there will be signage on the electronic scoreboard as well!
The rankings of these over-the-top deals are evaluated on a per year basis, and therefore the names can and do shift annually, depending upon who has the most money to invest and which teams have escalated to the top rankings.
Corporate sports sponsorships and the jerseys that are associated with the year and team bring big bucks and an elevated sense of importance in more than just appearances. The value of the jersey of a winning team escalates for collectors around the world.
This year, the top five names associated with the highest investments include: $80 million for Chevrolet and Manchester United; $38 million for Quatar Airlines and Barcelona; $37 million for Deutsche Telekom and Bayern Munich; $33 million for Standard Chartered and Liverpool; and $29 million for Bwin and Real Madrid.
These numbers prove that the business of corporate sports sponsorships are fairly impressive and not for the financially squeamish. This arena has created an entire new line of business in sports sponsorship negotiations, bidding and ultimately will have you looking at that jersey in a whole new light!