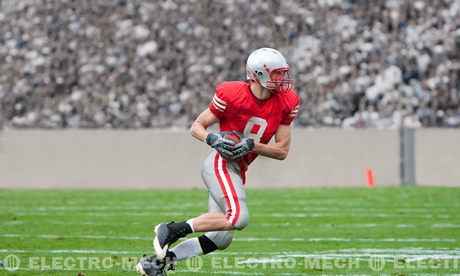 All teams have good and bad moments, no matter how outstanding or disappointing the general play of a team is. Even though the Pittsburgh Steelers have made it to the forty fifth Super Bowl, they too have had their share of good and bad moments in the 2010-2011 season. As the final showdown between the Steelers and the Green Bay Packer is still 4 days away, the diehard Steelers fans should be concentrating on the good moments the Steelers have had during this season, to get that positive vibe rolling unto the fated day! Here is the football scoreboards list of the top 3 moments for the Steelers during the regular season of 2010.

Big Ben's Big Heave – where would the Steelers be without Ben Roethlisberger? Probably not at the top of NFL's power rankings! The guy is not only big on talent; he is also big on heart when it comes to pulling his team together. In the game against the Baltimore Ravens the football scoreboards showed that he completed 22 out of 38 passes, translating into 253 yards. However, what the stats don't show is that between these 253 yards he displayed great strength and leadership. He carried the team to a victory over the rivals, despite his nose breaking in the first quarter of the match and his broken foot from the week before.
The Steel Curtain, 1970s Style – In week two against rivals Tennessee Titans, the Steelers fans got to see the Steel Curtain akin to that of the 1970s glory! With their starting QB missing from action, the team's success completely fell onto the shoulders of the defense. The defense forced 7 turnovers (4 lost fumbles and 3 interceptions), re-earning their nickname of The Steel Curtain. James Harrison proved to be the strongest thread in the Steel Curtain with 2 forced fumbles and 2 sacks, and he clinched the player of the game title for the Steelers. Troy Polamalu, Lamar Woodley and Bryan McFadden each succeeded in intercepting the Titans during the game.
Steelers vs. Raiders, 35-3 – The Oakland Raiders came into week 11 after suffering a terrible defeat against the Patriots, only to be served another terrible loss this time to the Steelers. As the scores already suggest, this turned out to be the best performance for the Steelers in the 2010 regular season. Statistically, the game turned out to be the best for quarterback Ben Roethlisberger, who threw for 275 yards. The defense, too, had a field day, recording 3 Oakland Raiders turnovers, 3 forced fumbles and 6 sacks. Before the Steelers beat the Raiders silly, the Raiders were actually being considered as possible contenders in the AFC. However, after beating them so badly, the Steelers went on to win the next 3 games, placing themselves near the top among the conference's elite members.
For more information, go to: en.wikipedia.org