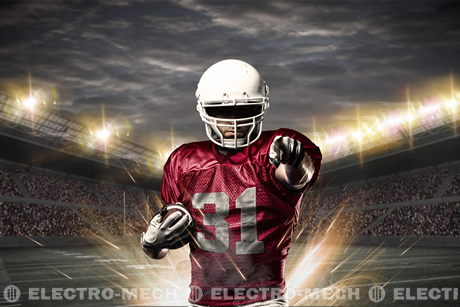 As a company that produces electronic football scoreboards, we at Electro-Mech strive to provide up-to-date information on all things about football – including the NFL draft. Check out our other articles concerning football news, trends and scandals. For now, we'll focus on Eugene Monroe.
New Jersey Roots
Most quarterbacks wouldn't mind having a tough guy from Jersey guarding their backs. But when that guy is Eugene Monroe, the quarterback has the equivalent of a bulletproof vest against a blindside rush. Monroe, who left New Jersey to star at the University of Virginia, figures to be way at the top of the board in the upcoming NFL draft.
Monroe comes from one of the largest New Jersey families. He is the youngest of sixteen children. With ten brothers, Monroe had enough men to form an entire football team in Plainfield, near the New York border. But at 6 foot 5 and 310 pounds, Monroe doesn't need any of his big brothers to watch out for him on the field.
Stock Soars at Combine
At the NFL combine in February, Monroe had many scouts talking about him as a solid top-five pick in the draft. It was his overall athleticism that was most impressive, although his time in the 40-yard dash was a close second. And Monroe showed no shortcomings in the strength department, either.
At Virginia, Monroe benefited from facing 2008 first-round pick Chris Long, a defensive end, across the line of scrimmage in practice for three years. He often found that Long in practice was a stiffer challenge than his actual opponent on game day. Monroe also benefited from playing on the same offensive line as tackle Branden Albert, another first-round pick in 2008.
A Challenging Senior Season
After overcoming knee problems in his sophomore and junior years, Monroe was a bright spot on a weak Virginia offensive squad in his senior season. The Cavaliers scored only 23 touchdowns, and 16 of them resulted from key blocks by Monroe. He also had 105 knockdown blocks. His proudest moment came during a rare offensive outburst by Virginia during its 31-0 rout of rival Maryland. Monroe had 11 knockdowns and 2 touchdown-producing blocks. After the game he was credited with the work he had done mentoring his younger teammates on the offensive line.
Monroe had the respect even of opponents who routed his team. After Southern Cal defeated Virginia 52-7 in the season opener, USC coach Pate Carroll said of Monroe during his postgame press conference, "He's awesome. We recruited him in high school…. He's an awesome-looking kid, a great athlete, a good student, and he was full grown a long time ago…. Beautiful athlete, a number one draft pick all the way, exactly what guys are looking for as a pass protector at left tackle."
High Marks for Character
In his spare time, Monroe has made a point of giving back to the community, giving motivational talks to troubled teens on a regular basis. Back in Jersey, Monroe enjoys an unfriendly game of team handball, a game he learned in high school. Asked by thefootballexpert.com what satisfies him most on the football field, Monroe replied, "When you know you make your block and you finish it clean. You look up and your running back is 30 yards in front of you headed towards the end zone. That is a great feeling of accomplishment, not just for me but for the whole team because it takes all of us to make it happen."