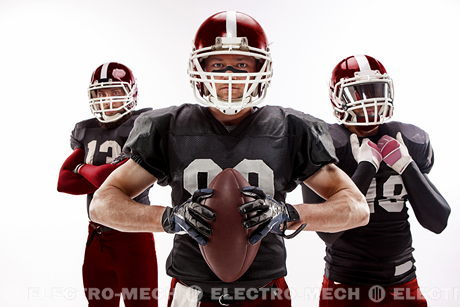 Top experts in NFL draft predictions have quarterback Matthew Stafford being taken by the Detroit Lions as the first pick.
NFL draft projections have given Georgia's Stafford a slight edge over USC's Mark Sanchez as best quarterback.
Although the quarterback position is usually a high priority when it comes to NFL draft picks, this year's QB crop seems a bit lean.

As a company that produces electronic football scoreboards, we at Electro-Mech strive to provide up-to-date information on all things in football – including the NFL draft. Check out our other articles concerning football news, trends and scandals. For now, we'll focus on Matthew Stafford.
Has Stafford Got It All?
Matthew Stafford has a pedigree that seems perilously close to the All-American Boy. Curly red hair, All American quarterback, Southern charm, and . . . number one pick in the NFL draft?
The prospect of a successful quarterback with a strong arm is like an oasis in the desert for a struggling NFL team. Good quarterbacks are hard to find, especially in this year's draft. Can the teams with the earliest picks resist taking the top-rated quarterback, Matthew Stafford? Not likely. Passing on a quarterback who goes on to stardom with another team can rankle fans for years down the line and expose a general manager to endless ridicule.
Matthew Stafford finished his junior year at Georgia with a career record of 27-7 as a starter, and he elected to skip his senior year and enter the draft. He has been under heavy scrutiny ever since being rated a top prep quarterback while at Highland Park High School in Texas. Three victories in bowl games at Georgia have only heightened his cachet.
Curse of the Lions
On an intriguing note, the Detroit Lions are the first team that must decide whether to take Stafford. Another graduate of Highland Park, Bobby Layne, placed an infamous curse on the Lions when they traded him in 1958. Layne said that the Lions would not win for the next 50 years. Since that time, the Lions have won only one playoff game.
"I know about the curse," Stafford told the Detroit Free Press. "It really is weird to think about. It's kind of a cool irony, I guess, that it could happen."
At 6 foot 2 and 225 pounds, Stafford has all of the physical tools to excel in the NFL. His strong arm and quick, compact delivery make him a particularly dangerous downfield passer. His only weaknesses lie in his tendency to force passes into coverage and throw off his back foot, due to his strong confidence in his own ability. The question is whether he will respond to coaching and addresses these faults.
Pluses and Minuses
NFL draft guru Mel Kiper Jr. has criticized Stafford for his inconsistency, while conceding that he has a strong arm. Evidence of this inconsistency can be found in his performances against Louisiana State and Florida during the past season. In Georgia's 52-38 romp over LSU, Stafford went 17 of 26 passing for 249 yards and no interceptions. He punctuated his performance with a 7-yard scoring run and finished with a quarterback rating of 171.2. In his postgame press conference, Coach Mark Richt said, "Matthew is really maturing. He is standing in there when everything's flying around him and focusing downfield and throwing strikes. He's really doing that as fine as I've ever seen him do it, and as well as anyone I've ever coached."
It was another story the next week, as Florida whipped the Bulldogs, 49-10. Stafford was a goat, throwing three interceptions and missing on 15 of his 33 passing attempts. The Gators threw in two sacks of Stafford for good measure. Stafford bounced back to win the next two games against Kentucky and Auburn.
Looking ahead to the NFL, Stafford told the Detroit Free Press, "I want to win and do anything that it takes to get the job done. I think in the end the stat that matters for the quarterback the most is the wins and what he can do to help his team around him."