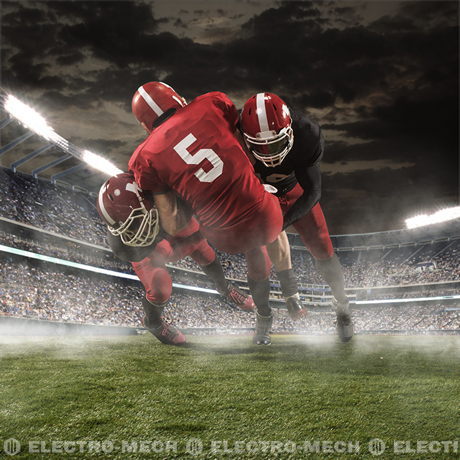 The NFL has a history of scandals, including those concerning the draft and top draft picks.
The top 10 NFL draft scandals of all time include some well known names and teams.
NFL draft scandals tarnish the appearance of the football league, and measures have been taken in recent years to force players to clean up their behavior.

And scandals are part of only one of many topics we cover here at Electro-Mech. As an electronic football scoreboards manufacturer, we understand the importance of covering a variety of sports material, especially the latest on trends, controversy and scandal in the world of football. Just read on to see the latest and greatest on that avenue.
1. The JR Redmond Scandal
JR Redmond was a college football player who was highly sought after in the draft pick. His girlfriend was an employee of the University, and she bought him gifts, did his laundry from time to time, and did other things that most girlfriends usually do. Right before the draft, Redmond's girlfriend blackmailed him into a quick Las Vegas marriage, with no prenuptial agreement signed, with the threat that she would take receipts for the things that she had bought and paid for to the NCAA. Employees of the University are prohibited by NCAA rules from giving gifts or cash to student athletes. When Coach Snyder found out, the marriage was annulled, the NCAA was told by the coach, and Redmond was suspended for one game. The blackmailing former spouse did not get a penny.
2. Maurice Clarett
Maurice Clarett was a big draft scandal. With a stellar college record, rumors were started about Clarett accepting cash and merchandise from booster and school employees. He went on to challenge the early entry rules for the NFL and lost. After a few years Clarett was chosen by the Denver broncos in the third round of the draft. He was then cut from the team before the season starts. Within months Clarett was arrested for assault and robbery, and his football career was over.
3. Colt Brennan
In February of the year 2004, while waiting to be chosen for the draft pick, Colt Brennan was arrested for felony burglary, trespassing, misdemeanor sexual assault, and indecent exposure. Apparently he walked into a dorm room without permission and then proceeded to sexually assault her. He was found guilty and given seven days in jail, probation, and community service.
4. Losing A Draft Pick
Bill Belichick, coach of the New England Patriots, will lose a first round draft pick, or a second and third round pick instead , as punishment for videotaping the coaches of other teams illegally. In addition to losing the draft pick, the coach was fined half a million dollars and the Patriots were fined a quarter of a million dollars.
5. Najeh Davenport
In 2002, Najeh Davenport was still a rookie with the Pittsburgh Steeler team, after the draft, when he was arrested. In April, Davenport went into a dorm room in the middle of the night at Barry University. The female resident awoke to find Davenport defecating in her closet. Burglary and criminal mischief were charged.
6. James Hardy
James Hardy is in line for the NFL draft, but his history and past are filled with scandal. In 2006 Hardy was arrested for crime reporting interference and domestic battery. He attacked his girlfriend while she was holding their infant son, and the biggest reason for the scandal was the fact that his infant was involved in the assault.
7. The Boat Sex Scandal
Daunte Culpepper was part of the boat sex scandal, and as a result he was traded to Miami in exchange for a second round draft pick. The sex boat scandal involved four players for the Vikings, as well as a charter boat and a number of strippers. Charges were brought against all four players for misdemeanor lewd conduct, but were later dismissed against Daunte Culpepper.
8. Marshawn Lynch
Marshawn Lynch was a first round draft pick for the Buffalo Bills, and shortly after being drafted this football player starting having legal problems. In two separate incidents, Lynch hit a woman and drove away after leaving a bar, and then was caught later in the year with drugs and a loaded illegal gun in his vehicle.
9. Marcus Dixon
When Marcus Dixon was allowed to be in the 2008 NFL Draft a scandal erupted. Dixon has a troubled past with incidents of sexual abuse, which included charges of aggravated child molestation and statutory rape on a fifteen year old girl.
10. Todd Marinovich
Called the perfect QB by Sports Illustrated, Todd Marinovich was a first round draft pick for the LA Raiders with a starting contract worth more than two million dollars. He had a prior history of drug abuse before being drafted, and after playing only seven games he was again caught up in a drug scandal and left the NFL because of it.