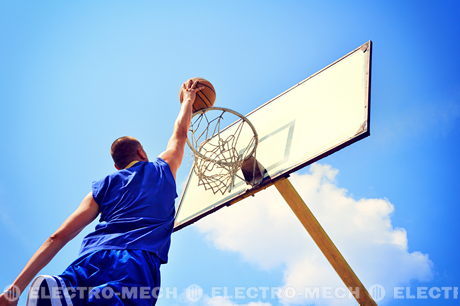 Here is a list of the top foreign players to have played in the NBA.
20) Vlade Divac, Serbia – An intelligent center who played in two very talented teams; Los Angeles Lakers and Sacramento Kings. He had fantastic passing skills for a center.
19) Hedo Turkoglu, Turkey – Despite an unsuccessful season with the Raptors last year, he was a key shooter for the Sacramento Kings, and an important player for the Orlando Magic as they got to the finals.

18) Rony Seikaly, Lebanon – A top class center for no less than 11 NBA seasons. He had some great runs with Miami Heat.
17) Rik Smits, Netherlands – A brilliant shooter, he was part of the Indiana Pacer team that got to the NBA Finals in 2000.
16) Peja Stojakovic, Serbia – He is best known for his smooth shooting in Sacramento's playoff runs.
15) Ben Gordon, England – A great clutch shooter. In the 2000's, he played for the Chicago Bulls in some playoff runs.
14) Luol Deng, Sudan – A talented player and one of the best foreigners the NBA has seen.
13) Zydrunas Ilgauskas, Lithuania – His career was hampered by injuries, but his time spent with the Cavaliers was fruitful, and he remains their all-time leader in blocks.
12) Detlef Schrempf, Germany – A deadly shooter and all round skillful player, he brought his team to the NBA finals.
11) Toni Kukoc, Croatia – Kukoc played a key scoring role in the Bulls team in the late 90's. Playing in a talented team that included Jordan and Rodman, the Bulls won three titles.
10) Manu Ginobili, Argentina – A fantastic clutch scorer, Ginobili was instrumental in 3 of Duncan's 4 NBA titles.
9) Tony Parker, Belgium – A brilliant team leader and high scorer. A key element in the 3 titles won by San Antonio Spurs.
8) Yao Ming, China – Surely the best Chinese basketball player ever, and the best player taller than 7'3 to have ever graced the game. He is undoubtedly a gifted player, but unfortunately he has never brought his team past the playoffs first round.
7) Dikembe Mutombo, Democratic Republic of Congo – A legendary defense big man, and without doubt one of the best foreigners to have graced the NBA. He never won a title though.
6) Dominique Wilkins, France – Undoubtedly one of the best high-flying forwards that the NBA has ever seen.
5) Steve Nash, Canada – Since 2005, Nash has been generating some incredible stats for many seasons now. An all time NBA favorite, and the leader of a team that has had many deep playoff runs.
4) Pau Gasol, Spain – Pau Gasol has joined forces with Kobe Bryant and Lamar Odom to make the Lakers almost unbeatable. The team has not lost 3 games in a row since he arrived there.
3) Patrick Ewing, Jamaica – A great center who had a fantastic jump shot. He also excelled in rebounding and defending.
2) Dirk Nowitzki, Germany – One of the best shooters the NBA has seen, Nowitzki has been a hero for the Dallas Mavericks for many seasons now, and led them to the NBA Finals.
1) Hakeem Olajuwon, Nigeria – A genuine NBA legend. For a big man, his footwork was exceptional, and perhaps unmatched in NBA history.
For more information, go to: nba.com