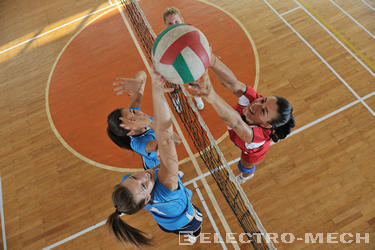 Ok, so you have been given the responsibility to buy a volleyball scoreboard and you aren't sure where to start. To begin with, all scoreboards aren't alike. There are cheap and discounted all the way to higher priced. Here is an at a glance list of things to think about before you buy:

Portable/Permanent and Indoor/Outdoor?
If all of your games are played in your location, you might want a permanent volleyball scoreboard. If not, look into some of the portable options. Another decision is will the scoreboard be indoors or outside? Permanent volleyball scoreboards must be secured well. Outdoor permanent scoreboards must be made handle weather conditions. They must also pass whatever county, state, local or team rules may apply. Outdoor scoreboards are usually secure in concrete footing. Portable scoreboards are now made in a variety of sizes. No matter what direction you take, you must make sure you research and find a quality manufacturer and you get the size that fits.
LED – hands down:
As you preview volleyball scoreboards, understand that nothing can surpass an LED. Bright, sharp colors that are easily viewed. LED is a good investment has it takes very little energy and doesn't require the old fashion bulb replacements. LED usually has around a 100,000 hour lifespan. Color selections are usually magnificent and the fans will love it.
Wireless or Plug in:
Wireless is usually available in the quality volleyball scoreboards. This is perfect for indoor and outdoor games. You need to consider if you want cables and cords laying around for people to trip over. Wireless controllers are also an excellent selection because the controller can move through the fans and update information on the fly.
Adding What You Want for Sponsors
There are so many very cool choices that you can have on a volleyball scoreboard. Beyond just the scores, you need to think of your sponsors. They will be a lot more likely to sponsor if they see that the scoreboard can have streaming messages, their logos, icons or even an advertising message. This is top shelf quality and they will open up their wallets for that kind of representation.
Lights, Colors, Action:
Look for the quality manufacturers that work with you in colors for both the volleyball scoreboard and the LED lights. The colors will be vibrant and a consultant will give you the best selections. You might have a scoreboard that matches your team colors.
Warranty and Maintenance:
Like everything else we buy, you will want to note the warranty. Good companies always give years of warranty on their products. They have a good maintenance track record and repair staff that is trained in any maintenance needs for your volleyball scoreboard.
Asking for help:
You should have a company rep or consultant that you can discuss the options, choices and needs for your scoreboard. They will let you know the successes that they have seen and what will work best for you and your team.
No matter which type of scoreboard you buy, it's the company that you buy it from that makes the difference.