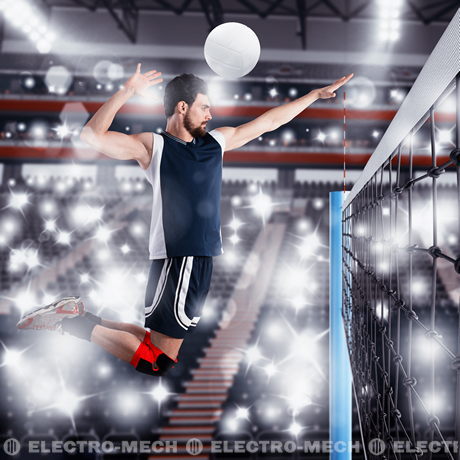 Wireless takes to the volleyball scoreboards. Fans bond with the players through the scoreboard
Quality manufacturers offer the best products. Scoreboards now have choices for appearance
High end imaging and sponsor areas available. LED color combinations
Electronic components. Accessories. Warranties and maitenance. Light weight and easy set up

Our society is wireless. The technology has expanded from phones, microphones and computers to just about everything electronic. And so enters wireless volleyball scoreboards. Originally designed as a blessing to the youth programs who simply might not have a completely built facility, these scoreboards are now a major choice of the traveling and outdoor volleyball teams. State of the art equipment that can be portable and have impressive and colorful displays that adds to the drama of every moment of the game.
Electronic wireless volleyball scoreboards translate into the way the fans participate in the game. More than just keeping score, it is a visual bond between themselves and the players. Wireless offers immediate upload of game data bringing faster action and an immediate gratification. All eyes follow the scoreboard and the scoreboard reflects the game. The controller is no longer required to stay in one place, but can roam the playing area and catch the scores as they happen.
If you are smart, you will look into a quality manufacturer of wireless volleyball scoreboards. They will have the brightest and most clear LED displays and will be made of sturdy frames. Portable versions now come in all different sizes which does include some surprisingly larger sizes. The electronics from a good company will be of a better variety and they will last longer.
Wireless volleyball scoreboards give you the high end image you are looking for. Look for a company that offers choices and not just a short pick list of what you must choose from. Many of the wireless scoreboards include additional sponsor advertisement areas. You need to consider your sponsors as they are an important investment and future for your team.
Better companies will also offer color selections for the board and the LED's. The visual effect of an LED scoreboard on the crowd of fans is astounding. Ensuring that you have the right look and feel will make the game even more exciting. LED is energy efficient and they have an average of more than 100,000 hours of life.
Electronic components for wireless volleyball scoreboards may include handheld wireless controllers all the way to start and stop clock controllers. You should also look into the carrying or storage cases for these components so that they will last longer.
Many portable volleyball scoreboards are wireless. They are sturdy to withstand transportation, but light enough to carry. Most of the set up is a breeze and the better ones are designed to withstand weather conditions for outdoor games. If you are investing in a wireless volleyball scoreboard, make sure there is a good warranty and easy maintenance. All electronics should be enclosed or encased.
The world of wireless scoreboards can enhance the game, jazz up the fans and move your team to victory. The lights, colors and visual effects now available in wireless are very cost effective for the true total pleasure it gives to player and fan alike.