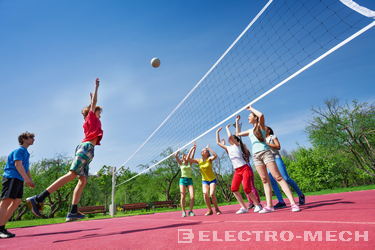 Since 1983, the AVP has organized professional beach volleyball events throughout the world, and has more than 150 of the very best players in the world in its ranks. The AVP volleyball scoreboards have seen many great players such as Todd Rogers and Phil Dalhausser. The tour travels across the US and showcases these great players at prominent beach locations, chosen for their active volleyball community.

The AVP has grown considerably in the last decade, partly as a result of American success in the last two Olympic games. In ten years it has grown from two separate (men and women) tours with 6 stops to a unified tour with 10 events. In that time the TV coverage has expanded considerably.
However, the tour is experiencing troubled times. The CEO, Jason Hodal, said that the AVP is in desperate need of an infusion of cash. However, there are interested parties, and negotiations with potential new investors are being conducted this week.
Hodal explained that they were not panicking as yet, as the negotiations have being going on for quite some time and there is progression. However, he admitted that as long as a deal is not sealed, there is a chance that they will not get the required financing. In the interest of transparency, the players were briefed on the financial situation of the AVP last week, leaving many of them worried about their future with the league. They are naturally concerned, as their livelihoods have suddenly been put under threat.
In two weeks, the AVP matches are set to be played in San Francisco, and Hodal said that the financing needs to be secured by then, or else there will be no choice but to cancel some of the weekend's events.
Hodal has not hinted on the identity of the potential new investors. All he has said is that they are involved in the sports industry, and that by going into a partnership with them, the AVP would derive considerable benefit from the company's knowledge of the sporting world. He went on to say that he envisages a very bright future for the circuit, and that it will continue to grow in popularity. Hodal is confident that the rest of the season will be a great one for the AVP, and that the volleyball scoreboards will continue to light up across the country.
If all goes well, the schedule for the rest of the 2010 season looks like this:
August 14th to 15th, San Francisco Bay Area, California.
August 19th to 22nd, Manhattan Beach, California.
August 27th to 29th, Chicago, Illinois.
September 3rd to 5th, Cincinnati, Ohio.
September 17th to 19th, Los Angeles, California.
For more information on the AVP tour, go to: avp.com