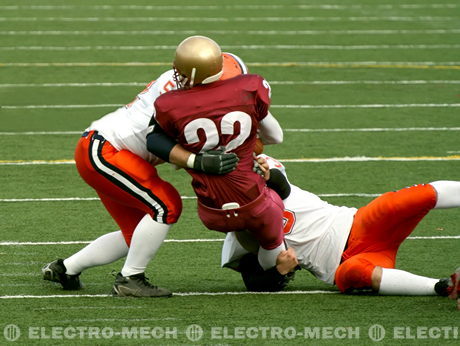 #1 Jim Brown
Despite playing only nine seasons, Jim Brown broke most major running back records, and his records stood for many years. He averaged 5.2 yards a carry, a figure unsurpassed by running backs. His leading the league in rushing in all but one of his seasons speaks to his consistency and dominance. This amazing football player led the Cleveland Browns to the 1964 NFL title.
Brown was a unique combination of power and speed. If his acceleration and fakes failed to get him by a tackler, he would use his powerful arms to deliver punishing blows to the approaching foe. Both his torso and his thighs were unusually wide and muscular, making him tough to bring down. Even teams that keyed on Brown were rarely able to limit him to less than 100 yards a game. Some experts rank Brown as not just the greatest running back of all time, but the greatest football player overall.

#2 Barry Sanders
Like Jim Brown, Barry Sanders retired while still performing at a high level. Despite playing for a Detroit team that almost never made the playoffs, Sanders gained more than 15,000 yards in his career. At his peak in 1997, Sanders gained at least 100 yards in 14 games, a record that still stands. He also achieved the rare feat of exceeding 2000 yards rushing that year.
Sanders had an amazing sense of balance that, combined with his quickness, enabled him to embarrass defenders with instant changes of directions and multiple fakes. Defenders who lunged at him in the backfield usually ended up grasping at air as the elusive Sanders shot past. Although Sanders stood only 5 feet 8, his powerful legs made it possible to break even the tackles of skilled defenders. The spinning and leaping superstar electrified fans across American for a decade.
#3 Walter Payton
No player in NFL history may have had a greater force of will than Walter Payton. "Sweetness" missed only one game in his entire 13-year career with the Chicago Bears. He brought maximum effort to every play, whether his job was to pick up a blitz or carry the ball. Payton once said that delivering a crushing block on a pass rusher gave him as much satisfaction as breaking a long touchdown run.
Payton ranks second in number of yards gained in a career with more than 16,000. Although his speed was only slightly better than average, Payton hit the hole hard and could deliver a devastating straight arm. He also excelled at working for extra yardage while in the grasp of a defender. Finally, he was a gifted receiver and could even throw the ball, registering eight touchdown passes during his career. He led the Bears to a Super Bowl title in 1986.
#4 Emmitt Smith
The all-time NFL career rushing leader is Emmitt Smith, who accumulated more than 18,000 in his 14 years with the Cowboys and the Cardinals. Few running backs are able to perform at a consistently high level for more than a few years, because of the tremendous beatings they take. But Smith was able to run for more than 1000 yards in 11 straight seasons, an unmatched achievement.
Smith had a straight-ahead running style that succeeded due to his powerful lower body. Time and again he would appear to be stopped short of a first down and then squeeze out the necessary yardage with second effort. He was a tireless worker for the Cowboys, stepping up with fine receiving and excellent blocking when called upon. With Smith in a starring role, the Cowboys won the Super Bowl three times in the 1990s.
As an electronic scoreboards continue to light up.