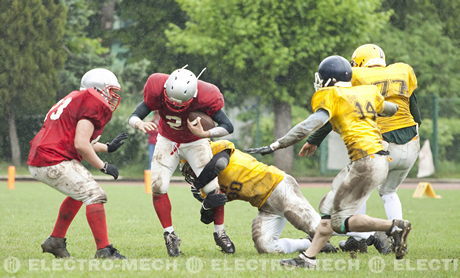 Each season, everyone holds their breathe in anticipation for the recruiting process of the nation's best college football teams. This year is no different, and it brings excitement as well as drama to the scene. While no one ever has a college football recruiting day, there were quite a few twists to the process. Alex Collins had an extra hurtle to overcome in signing up with the Arkansas Razorbacks. It turns out his Mom refused to sign the letter of intent because she wanted him to be closer to home in Florida. Alex received a reprieve when his father agreed to co-sign and the letter was sent.
OleMiss had reason to celebrate (and they did rather exuberantly) when they signed the nation's number one player: Robert Nkemdiche. Alabama's Crimson Tide has achieved an accomplishment to be proud of. They are officially the Number 1 recruiting class in the country, for a second year, outbeating Ohio State and Florida. So far, they have signed twenty five prospects to national letters of intent. Something to note is that 18 of these are among the ESPN 300. This includes a well received Alvin Kamara (number 32 on the ESPN list).

Issac Gross, Former ESPN 150 prospect and Under Armour All-American is bringing his freshman power for the Rebels. And it didn't stop there, they also signed up the Number one offensive tackle in the U.S., Laremy Tunsil and the number two safety in the country, Antonio Conner. You might say this has been a good year for the Rebels.
The Georgia Bulldogs have historically brought in top quality candidates, but this year, was a surprising turn. They only had one of the top ten state prospects that signed up, Shaq Wiggens. Other surprises were the 'are they going to flip sides' division. Tashawn Bower, Defensive end was leaning in commitment to Auburn and then it appeared he was going to move to Florida. At the last second, he signed with LSU. But it isn't only the players that do the 'flip', Auburn themselves changed directions in signing up Elijah Daniel, defensive end.
An award should probably go to Dabo Swinney, Clemson coach as his savvy repartee pulled in the top prospect that they wanted: CB Mackensie Alexander. Swinney also circumnavigated Georgia when they signed up Tyrone Crowder, one of the ESPN 150. It seems Swinney has taken college football recruiting to a whole new level.
Another signing day winner was Florida State, as they reeled in four of the ESPN 300 (three of them on the top 150 prospect list). The Seminoles are now major rivals to Miami as they added Matthew Thomas, the No. 6 overall player in the nation; the No 4 cornerback in the nation, Jalen Ramsey; the ESPN 150 defensive tackle Keith Bryant and another ESPN 300 favorite, this time the linebacker E.J. Levenberry.
Miami didn't seem to be having a great year so far, as they lost two of their best, Thomas and Bryant; and Alex Collins, running back made the decision to go with Arkansas. But, all is not lost for Miami, they did add ESPC 150 receiver Stacy Coley and Jermaine Grace, ESPN 150 linebacker.
Sources: http://www.espn.com