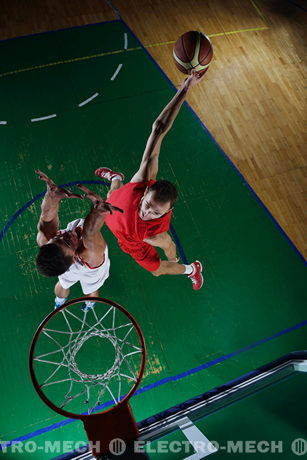 In basketball scoreboards news, we look at somewhat esoteric subject. Who were the shortest players ever to have played in the NBA?
Basketball is one of the few sports which practically demands a distinct physique. As we all know, that demand is height. Most of the players in the NBA of today and the past are and were over 6 feet tall, and many 6 foot 6 and above. Clearly height is an obvious advantage in basketball, unlike in sports such as soccer or baseball, in which physical attributes are much less important. In one way this is a inherent disadvantage of the game of basketball: whilst the best soccer player in the world today, Messi, is only 5 foot 7, in basketball the vast majority of players of such a a height will get nowhere. In another way, this is not strictly true, as there have been some notable exceptions in the game of basketball over the years. Below we look the shortest players in basketball history who made it big.

Wataru Misaka – 5 foot 7 inches. One of a small crop of Asian basketball players that have made it big in the NBA (then called the Basketball Association of America). He in fact was the very first one. Not well known to modern day NBA fans, he lit up the courts in the mid-forties. Born in Utah, he helped the University of Utah win the 1947 NIT championship. He was the first round pick for the NY Knicks, but only had a short career with them (ha! ha!).
Spud Webb – 5 foot 7 inches. Amazingly, Anthony Webb could dunk! Not many people in the world of that height can get close to slam dunking on a regulation 10 foot hoop, but he made it look easy, and even won then NBA slam dunk contest in 1986 with a 42 inch jump. His principal team was the Atlanta Hawks, where he spent 6 seasons. The basketball scoreboards showed that his career as a whole consisted of 814 NBA games and 8072 points.
Earl Boykins – 5 foot 5 inches. The second shortest player, and the lightest player ever to have graced the NBA, he played for a variety of teams, including the L.A. Clippers, the Denver Nuggets, and the Charlotte Bobcats. His impressive scoring technique enabled him to score 32 points for Denver in 2004.
Tyrone Bogus – 5 foot 3 inches. A dwarf amongst giants, he is the shortest man to have ever stepped foot on an NBA court. He made up for his physical weakness through his talented passing and stealing skills, and through his swiftness of movement. He played for the Charlotte Hornets for 10 years, and was a very popular player for the duration of his career with the club. In his 14 season NBA career he racked up nearly 7000 points, 6750 assists and 1400 steals. Impressive stats!
For the original article, click here
For more information, go to: