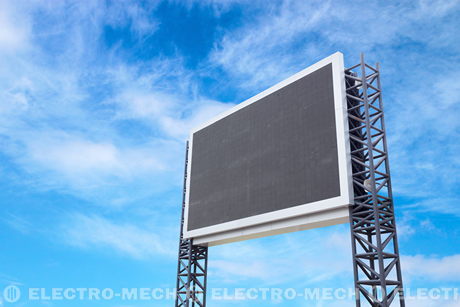 Aluminum has become the metal of choice for many industries. In the past, steel was once thought to be the metal to use, however, the use of steel brings a plethora of problems and expenses that are not shared with aluminum. Due to its inherent properties aluminum brings durability with ease of use. In a world that is focused on recycling and more earth-friendly, aluminum is one of the few easily recyclable metals. The use of quality aluminum construction in every scoreboard is a standard of Electro-Mech.

America was once known for its production of steel and the industry carried the country through many manufacturing changes. The use of steel in manufacturing involves welding, protective gear, heavier weight and transportation, a very detailed process of cleaning to avoid steel rust film and requires painting. Aluminum is lighter weight, more flexible, easily assembled through prefabricated parts, does not require welding or specialty tools, has a naturally-occurring protective coating against oxidization, doesn't require painting, excellent in thermal conductivity even at lowered temperatures, non-toxic, is easily cleaned, and is more readily available to be recycled.
The advantages of using aluminum over steel for electronic sports scoreboards are fairly obvious. From a scoreboard perspective there are some features to take note. Weight is one of the first, as an aluminum scoreboard can be shipped and installed in an easier fashion than a heavy metal such as steel. Although Electro-Mech coats each scoreboard with an automotive grade enamel based paint, aluminum is a corrosion resistant metal. Aluminum has a low melting point and can therefore be cast more quickly and easily in an array of shapes and sizes. Even when it is only .0007 mm thick, aluminum is impermeable to light and therefore is a good background for scoreboard LED lighting. From a safety factor it is non-toxic and is the safest selection for an electronic scoreboard.
The strength of aluminum as a metal outweighs many of the other choices. The strength to weight ratio is so excellent that it is used in many industries that require a substance needing less energy for moving objects. Aluminum offers a level of efficiency in energy savings as compared to any other industrial use metal. As a metal, aluminum can be easily manipulated from thicknesses of only millimeters and still maintain almost all of its properties.
In many industries, aluminum has replaced the use of steel, bringing with it more enhancements and expansions into other previously not exposed applications. High quality, high grade aluminum is an absolute must for the production of electronic scoreboards, as it maintains integrity, strength, safety, and durability while keeping cost production lower. Using aluminum as a base also enhances the choices of shapes and sizes, which is far from easy using steel or other metals.
Electro-Mech takes pride in overseeing the aluminum manufacturing of the very best electronic sports scoreboards so that they will be maintain the highest reflection of excellence for clients, schools, teams and stadiums. Creating the finest scoreboard products has enabled Electro-Mech to have a distinction of personal attention and quality.