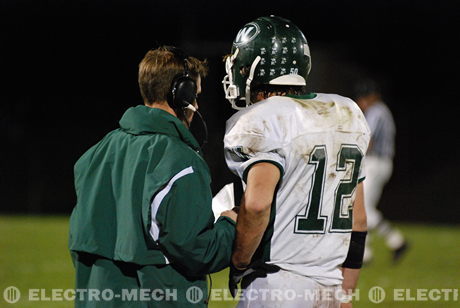 Quarterbacks undoubtedly hold the most important position in football. But as important as their role is, some teams have put some really bad quarterbacks on the field! Not surprisingly, this has led to the downfall of the team. In honor of these anti-greats of the game, in this football scoreboards feature I have taken a look at who I consider to be the 5 worst quarterbacks to have ever set foot on an NFL field.
5. Joey Harrington
Sarcastically nicknamed as Joey Sunshine for being too optimistic, Harrington spent most of his career with the Detroit Lions. The Lions drafted him in 2002 and he remained with the team till 2005. Factors like mismanagement, poor offensive line protection and lack of skills contributed to his unsuccessful career. He also played for the Miami Dolphins, the Atlanta Falcons and the New Orleans Saints, but he remained unsuccessful with every team he played.

4. Rick Mirer
The football scoreboards showed that Rick Mirer had a fantastic rookie season but something really bad happened to him after that. It seemed like someone else was playing for Mirer after his rookie season, and he was a lot more nervous and less self-assured. Mirer's performances deteriorated to such an extent that no team wanted him, and he ended up being traded between teams without getting any meaningful playing team. A wasted career!
3. Chris Weinke
Chris Weinke was drafted by the Carolina Panthers in 2001 and became the first and only quarterback in the history of the NFL to lose 15 consecutive games. After he was drafted, he won the first game he played but then lost all the remaining 15 matches. The Panthers then went on the hunt for a quarterback that could win matches for them and they found Jake Delhomme. Weinke got a chance to win a second game when Delhomme got injured, but he failed again and that proved to be his last game in the NFL!
2. Mike Phipps
The Cleveland Browns made a huge mistake when they traded the great Paul Warfield and drafted Mike Phipps. Mike Phipps career was, quite simply, very bad. In his initial year he started only one game and lost it to Cincinnati Bengals. In the second year he also started only one game which was again a loss to the Kansas City Chiefs. In the third year he was comparatively better but was quickly replaced by Brian Sipe, and after Phipps suffered from a collarbone injury, Sipe replaced him permanently. He was traded to the Chicago Bears where he played only a few games before ending his forlorn career.
1. Ryan Leaf
The man who lasted for only four years in the NFL! The drafting of Ryan Leaf was a heated debate in 1998, and for good reason. To draft him, the Chargers gave up a number of things, eventually got nothing in return. His four year career was marked with injuries, poor performances, and his off the field arrogant behavior! He surely deserves to be recognized as the worst quarterback in the history of NFL.
For more information on Ryan Leaf, go to: