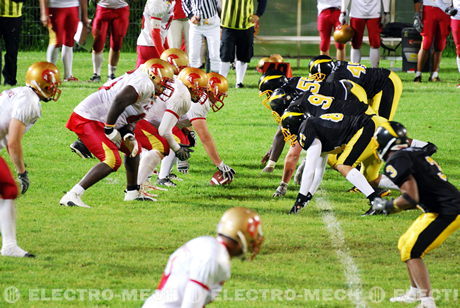 Cloverdale High School has never been known for sitting around and waiting for things to happen. They are a small community in the heart of America's Midwest and they live by the solid stability and convictions that has earned this part of the country so much respect. So when it came time to make some decisions on their athletic field and scoreboard, John Butler, Cloverdale Varsity Football Coach came front and center to begin the discussions. It became very apparent that the football team needed a new practice area as well as a goal post and therefore, Mr. Butler came prepared to talk to the school counsel with all of the information needed.

John had a complete plan, with regulation measurements and costs that would be incurred for the practice area and the fact that no added permits would have to be filed or required. His emphasis was on not only the definite need but the fact that the practice field would be available to all student levels. An important factor that was noted is that the practice field would reduce the wear and tear on the standard field, thereby saving money in the long run. In addition to the practice field, the school desperately needed an electronic scoreboard. John Butler is well aware of the effect that a team or school scoreboard has on the fans, family, school and team. His plan included a portable electronic scoreboard from Electro-Mech Scoreboard Company, with the perfect size, portability and battery powered that they required for their school. A portable scoreboard of such excellent quality can produce high tech color scores with a controller that offered immediate updates. The scoreboard could be used on both their fields and taken to away games. The versatility of this scoreboard would allow other sports teams to have access and use it for their games as well.
When you have a small community there are often very little excess funds. Even with the town support, every expense must be carefully examined with a proven return on investment.
Preparing for an approval always includes ensuring that there won't be any additional costs. The projects being presented were all 'covered' by: The Cloverdale Football Family Boosters, Cloverdale Youth Football League, and either Owen County Bank or the First National Bank-Cloverdale.
It seems that Cloverdale High School has an incredible talent in their football coach, with a school committee, a community and family members that are supportive of their school and the kids. They will be looking forward to practice sessions on the new practice field and displaying their new electronic scoreboard for each of their games. This is a true story of success, where a leader puts a good plan together, everyone is open to ideas and eventually helps to actually make the plan a reality. This kind of devotion and passion toward the benefit of the kids and teams are what makes it a truly winning situation. The only thing that needs to be a follow up – are the smiles on everyone's faces at the next game.