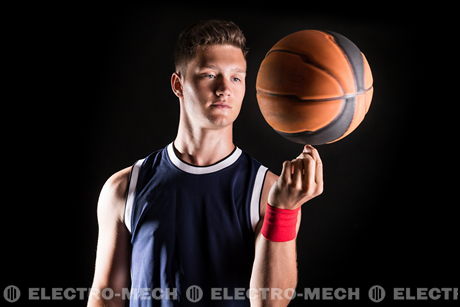 This last article in this "basketball scoreboards" series, I have looked at the remaining four non-drug related incidents in the NBA history, which led to the players receiving the long suspensions ever!
7 – 15 games, Carmelo Anthony – With the basketball scoreboards showing just 2 minutes left in the game, played out between the Knicks and the Nuggets at Madison Square Garden, a heated argument started when Mardy Collins, in an attempt to avoid J.R.Smith, fouled by grabbing him by his neck. A number of players got involved in the argument and the incident escalated to such an extent that Carmelo Anthony punched Mardy Collins right in the face. Every player who was involved in the argument was thrashed with a suspension and Carmelo Anthony received the longest of all; 15 games.

8 – 11 games, Dennis Rodman – One of the Bulls best players, Dennis Rodman has been associated with off the court incidents for years. His most infamous incident occurred in Minnesota when Rodman and Garnett were battling for rebounds and in the event of doing so the ball rolled towards the baseline. In an effort to reach to the ball, Rodman got tangled up with the baseline cameraman and twisted his ankle with one of the equipment. Rodman got so furious that he kicked the cameraman, who was still on the ground, in his groin so hard that he had to be carried off on a stretcher. Dennis Rodman was suspended for 11 games and lost approximately $1 million of his salary.
9 – 10 games, Nate Robinson and J.R.Smith – In addition to Carmelo Anthony in the 2006 brawl between the Nuggets and the Knicks, J.R.Smith and Nate Robinson also received a 10 games suspension as they too were involved in the melee. These two players threw punches at each other and were also involved in a tussle on the court. The league also imposed a half million dollar fine on both the teams.
10 – 10 games, Vernon Maxwell – Houston Rockets' Maxwell, who is known for his aggressive style of play on court, showed his aggressiveness off the court as well in a match that they were losing 120-82. Maxwell punched a fan when he taunted him about his wife's miscarriage. Maxwell went 12 rows into the stand to punch the heckler. Maxwell's lawyer said "If I'd been there, I would have probably decked him, too, You can't think of anything more vulgar than what this guy said." Maxwell was handed over a suspension of 10 games and was fined $20,000, and given a 26 game suspension.
For more information on Vernon Maxwell, go to:
http://en.wikipedia.org/wiki/Vernon_Maxwell