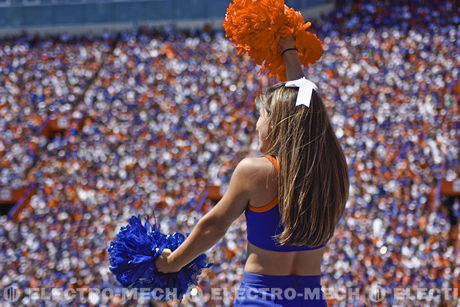 Any fan will tell you that there are many nuances involved in a college basketball game. Beyond the game itself, are the players (and the favorites), the build-up on the electronic scoreboard, and of course the continued excitement generated by the cheerleaders and dancers. The latter can take a game that could be ho-hum, and pull it up to a reveled area of frenzy. While fans are focused on the people, there is a subliminal view of the uniforms and outfits. These can make or break a cheerleading team, and therefore there is a lot of competition when it comes to design, look and color. Some of the college basketball cheerleading uniforms are winners and some are rather questionable.

There is a fine art in designing a uniform that has an upbeat look of today, with a retro flair. UCLA has accomplished both in a shorts style jumpsuit, reminiscent of a mod squad look, and with their familiar team colors.
However, a retro look gone wrong is what the Virginia Commonwealth Rams cheerleaders are looking like. Returning to the style of the 1960's in tall white boots just doesn't look right with the short shorts and crop top.
In an attempt to bring their Texas heritage into play, the Texas Longhorns created a cheerleading outfit with a cowboy appearance. Rodeo nods and fabric chaps has lent an air of whimsy, but they are by far the least flattering of any of the designs.
Cheerleaders of The Florida State Seminoles have a donned a wrapped top and tight yoga style pants, in black. The total look is hot and chic.
In an effort to jump out of the norm, Virginia Tech cheerleaders have a sleek look, in black. But OMG, they could have done so much more with the tops! The attempt at black with crystals looks more like those old candy dots of years gone by, and what ARE those shiny long sleeves all about?
With drastic colors like orange and blue, the designers of the Boise State Broncos cheerleading outfits went completely out of bounds, and the look is fantastic. A blue top that drapes like an evening gown is actually a touch of class and complements the sassy and flirty orange short shorts.
Adding a touch of glam to a cheerleading outfit can be a fashion question. But the cheerleaders of the Missouri Tigers have made it their own in a Vegas style glitter and shimmer crop top in black that match the pom-poms. The subdued tight pants put a classy showgirl effect to the whole look.
Another 'I don't know what they were thinking' cheerleading outfit – belongs to the Miami Hurricanes cheerleaders. A loose, floppy pink tank top and black shorts looks more like something they would practice in (or be seen doing gardening).
Sometimes simple can be incredibly classic. This can be said for the Louisville Cardinals cheerleading outfits. A tight crop top in 2-tone colors with black, gathered leggings is a great combination for them.
Having fun with an outfit brings the same thrills as seeing your favorites on the sports team electronic scoreboard. The cheerleaders for the TSU Horned Frogs have added that touch of white fringe to a classic halter outfit, and it totally works!