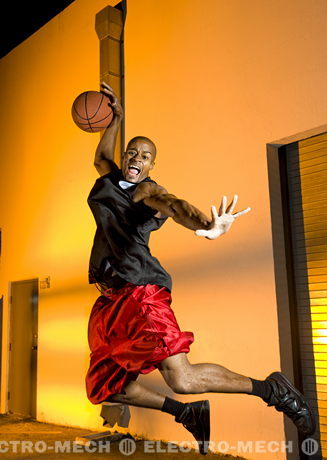 When it comes to the tallest players in basketball history, Wilt "The Stilt" Chamberlain who stood at 7'1" wouldn't even rate a mention. In a league where, as announcer Bill Walton has said many times, "You can't teach height" many figurative and literal giants have played in the NBA. The tallest player in basketball title actually belongs to two individuals, who were the same height and played for the same team at different times.

Here, at Electro-Mech, we are dedicated to producing quality, electronic basketball scoreboards while providing you with facts on all things sports- basketball included. We cover everything from the latest scandals to the history of the game. For now, we'll focus on the tallest NBA players in history.
These are the tallest players in NBA history:
Tie. Manute Bol and George Muresan. 7'7". Manute Bol lasted just about 10 seasons in the NBA and was the tallest player to ever step on the court. He began his career with the Washington Bullets in 1985 and went on to play for three other teams. Known as a shot blocker, Bol is the only player in history to block more shots than he score. In part, this was due to the incredibly low 2.6 points Bol averaged per game in his career. In 1987, the highlight of Bol's career came when the Bullets drafted Mugsy Bogues putting the tallest and shortest player in the history of the NBA on the same team.
George Muresan entered the league in 1993 and played six seasons split between Washington and the New Jersey Nets. He produced 9.8 points per game on average to go with 6 rebounds. The highlight of his career as one of two tallest players in basketball was staring in "My Giant" with Billy Crystal in 1998
Yao Ming, 7'6". Yao was drafted out of the China Basketball League by the Houston Rockets in 2002. Unlike those who were one inch taller than him, Ming has been a very productive tall player for the Rockets. Through the 2009 season, Yao has a seven-season average in scoring of almost 20 points per game to go with 9 rebounds. He has been voted as an All Star for 5 of those 7 seasons.
Shawn Bradley, 7'6". Although Bradley signed many lucrative deals based on his height and potential in the NBA and though he was one of the tallest players in NBA history, those teams would definitely get their money back if they could. Bradley milked an NBA career for 12 years after an unremarkable career at BYU from 1993-2005. Three teams (New Jersey, Philadelphia and Dallas) overspent for Bradley, who averaged Muresan-like 8 point per game with 6 rebounds.
Tie. Chuck Nevitt and Slavko Vranes. 7'5". Who? Tied for size and obscurity these two were both centers in the league who left no mark. Vranes only played a total of 3 minutes in the NBA when Portland picked him up on a short-term contract in 2003. Nevitt, however, managed a 9-year career in the NBA as one of the tallest players in basketball. During that decade, Nevitt was relegated to third string backup duty and only played about 20 games worth of minutes total. In fact, in Detroit he was only allowed off the bench when the game was beyond reach for the other team – a time fans renamed "Nevitt Time."