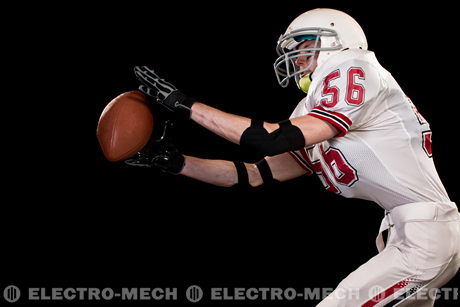 Let's face it, there are a large number of players in NFL who got hefty contracts but do not deliver the performances to justify the sky high sums that they are paid. Some of these players are simply a waste of the team's money and the fans' patience! In this football scoreboards feature, I have taken a look at who, in my opinion, are the 5 most overpriced players currently in the NFL.
5. Kareem Jackson
Kareem Jackson should have played much better than he did last season. It was his rookie year and he had the best chance to prove himself and take advantage of the opportunity given to him by the Houston Texas. He signed a contract with the Texans worth $10 million, and great things were expected of him, but he did very little enough to justify the amount of the contract.

4. Kerry Collins
The Titans' quarterback Kerry Collins played average football last season, and he was replaced by Vince Young after the Titans lost 6 consecutive games. In his games as a starting quarterback the team did pretty well, but his personal performances did not justify his $7 million contract.
3. Ronnie Brown
The Miami Dolphins' running back Ronnie Brown is undoubtedly a good player and he has showcased his talent a number of times in the past seasons, however last season he was a big disappointment. The football scoreboards showed that he ran only 3.7 yards per carry, way down on his previous stats. Given his age and his declining performance the $5 million that was offered to him last season seems like a great deal for him, and a bad deal for everyone else.
2. Johnathan Joseph
Another overpriced player in the NFL is the Cincinnati Bengals' cornerback, Johnathan Joseph. He earned more than most other good players at the same position last year i.e. more than $8 million. He arguably did deserve this contract because 2009 was a great year for him. It was his career best season and everybody was looking forward to the same kind of performance this year but they were left extremely disappointed. Last season the franchise would have been better off spending the money on some better facilities for the fans!
1. Julius Peppers
The Chicago Bears are undoubtedly paying a HUGE amount to a defensive end, Julius Peppers. There is no team in the league who pays $90 million to player in this position. Unarguably, Peppers is an amazing player and he did well in his first season last year as he recorded eight sacks. However, there is no team in the league today that would surely consider paying such a huge amount to a defensive end. He's worth a lot, but not THAT much!
For more information on Julius Peppers, go to:
http://en.wikipedia.org/wiki/Julius_Peppers