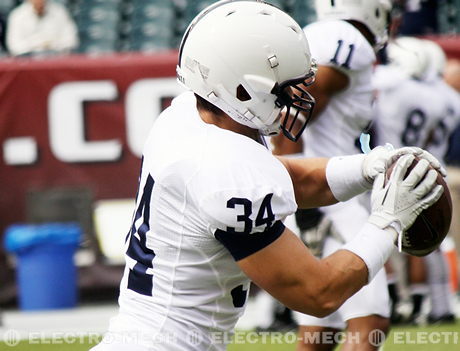 The wide receiver must have great hands, great intuition, and fantastic speed. He must also have good concentration, as he has a wide variety of routes that he could run, and his QB needs to be able to get the ball out fast to him. The wise receivers get a lot of media attention, as they are the ones who score the big touchdowns that are replayed over and over again on the sports highlights. The wide receiver position is one of the most prominent and important positions, and many great players have fulfilled its role down the years.

Jerry Rice was called "the great one". There are very few pundits out there who do not agree with the simple fact – Jerry Rice is the greatest wide receiver of all time. His debut was for the San Francisco 49ers in 1985. The football scoreboards showed that he played with them from 1985 to 2000. He then moved to the Oakland Raiders, where he helped turn the team's fortune around. After four Games of the 2004 season, he moved again to the Seattle Seahawks. Throughout his illustrious career, he wore the same number as the legend Steve Largent.
Rice had the ability not just to beat defensive backs, but to absolutely destroy them. He was fearless over the middle, had great hands in a crowded situation, and has an extra 'turbo' gear that took him away from even the swiftest of cornerbacks. In his day, Jerry created a new category, 'yards after the catch'. This statistic resulted from his amazing ability to make a catch and then sprint towards the touchline with his long strides.
He possessed a great work ethic and always showed great attention to detail. He was a fantastic role model for an entire generation of receivers. It is sometimes hard to believe that one player could be so dominant in the NFL. The competition is so intense there that there were always dozens of other players waiting to take way his crown, but no one could.
Steve Young was a great quarterback partner for Rice. He threw the most passes to Jerry, with the football scoreboards showing that he scored a record breaking 86 touchdowns. However, Jerry's partnership with Montana is the one that will always be remembered. Montana was deadly accurate, and Rice was full of deft moves, and they made the best partnership the NFL has probably ever seen.
The key to Jerry Rice's success, in his own words, was belief. He believed that he was going to be the greatest receiver ever, and he did everything he could to reach his goal. Rice retired in September 2005. He had played for no less than 20 seasons, and in that time he accumulated 38 NFL records. As John York, the owner of the 49ers said, he played with a passion like he has never seen before from any player in the NBA.
For more information, go to:
en.wikipedia.org