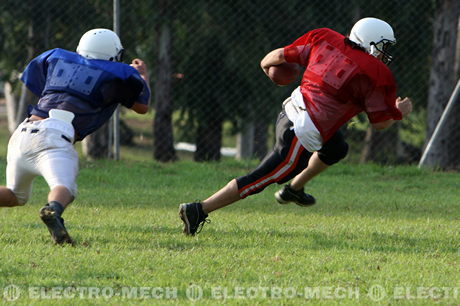 In a sport such as football, with its testosterone overload and insaciable desire for bloody victory, there can be no sport in which losing is quite so painful. Even in a defeat, it is one thing to lose a tight competition and another to be completely crushed by your opponent. Now, that is utterly embarrassing. In a football scoreboards feature, I have discussed 3 of the worst defeats to a team in the NFL, and their comeback against the same opponent in their next game.

2. Browns vs. Steelers – The Browns and Steelers rivalry is one of the oldest rivalries in the game; also known as the Turnpike Rivalry. This 6 decades old rivalry has been equally balanced; of the 6, 3 each have been dominated by both teams. Since the past 2 decades the Steelers have had the visible upper hand on the Browns. However, in spite of that on December 10th 2009, when the Steelers were the defending Super Bowl champions, the football scoreboards showed that the Browns managed to take an early 13 point lead over the Steelers, and restrained them to a mere 6 point comeback. This defeat was particularly embarrassing for the Steelers because, for one, they were the reigning champions, and secondly, the Browns had lost the last 10 games played at home. And to add salt to the injury, the Browns had been ranked last in the NFL in yards per game allowed (400.3-242.4 yards), while the Steelers QB Roethlisberger managed to throw for a meager 201 yards. The Steelers redeemed their self respect by defeating the Browns the next year in October 28-10.
1. Patriots vs. Jets – Not as strong and long a rivalry as the Browns and Steelers, but still a rivalry nonetheless. On December 6th 2010, the Patriots crushed the Jets with a 45-3 victory, cementing first place in the AFC East at 10-2. The Patriots victory could solely be credited to Tom Brady who had managed a 148 QB rating against the New York Jets. Aside from Ton Brady's excellence, the Patriots defense made the offense of the Jets look like one dimensional amateurs. On the other side of the field, Coach Rex Ryan took complete responsibility for the utterly disappointing and embarrassing defeat, saying that he was simply "outcoached" by Belichick. However, in their next game on January 16th 2011, the Jets beat the Pats 28-21 by cleverly recognizing their fake punts well before they were executed. This was a crucial playoff victory for the Jets, which also proved that Rex Ryan wasn't outcoached after all. In a show of team solidarity, the coach, after he took on the blame for the loss, accredited the entire team for the win and said that it wasn't him that won the game, but the boys on the field.
For more information on the coach Rex Ryan, go to:
en.wikipedia.org