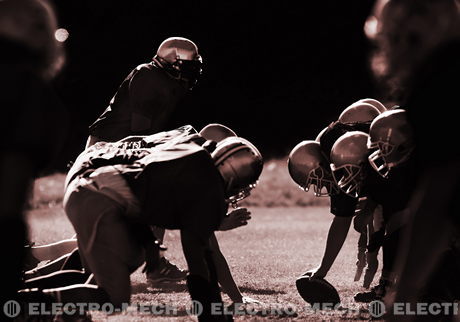 For adequate protection, football players should wear football equipment that fits properly and is in good condition
The helmet is the most important piece of equipment in terms of avoiding serious injury
Other types of football equipment include shoulder pads, knee pads, shoes, and gloves

If you want to see your face up on the LED football scoreboards, these are a few things you'll be needing.
The Helmet
A head injury is the most dangerous type of injury that a football player needs to be concerned about. Choosing a helmet that is the correct size and that has the proper padding can minimize this risk. To measure head size accurately, the player should have someone wrap a tape measure around his head so that it passes one inch above the eyebrows. Before purchasing the helmet, the player should closely inspect the interior to make sure all of the pads are securely attached. Some helmets come with air pads rather than the usual foam pads. The air pads can be inflated for a more exact fit. The player should choose a face mask that is appropriate to his position. For example, a placekicker uses a more basic face mask than other players do. A chin strap is a key part of the helmet because not only does it protect the chin but also it keeps the helmet securely attached to the head. Finally, and most importantly, a helmet should bear the seal of NOCSAE, the National Operation Committees on Standards for Athletic Equipment.
Shoulder Pads
Shoulder pads are the second most important piece of equipment because football players often lead with their shoulders when making contact, especially when tackling. Players whose positions involve lots of contact, such as linemen, need heavier and more secure shoulder pads than other players do. These heavier pads often have vinyl buckles or elastic straps to hold them in place. Other players need shoulder pads that are more lightweight and flexible, so that mobility is not be restricted. These players include offensive backs and wide receivers. To determine shoulder pad size, a player should have both his shoulder width and his chest width measured.
Other Equipment
Uniforms are usually supplied by the school or other organization that is sponsoring a team. Football pants have pockets for knee pads and thigh pads. These pads can be made of either foam or vinyl; vinyl pads are a bit sturdier. Knee pads are helpful to all players, whereas thigh pads are most often used by players who are frequently tackled, such as running backs. Several types of pads can be purchased as a single package to save money. Gloves have become an increasingly popular type of equipment in recent years. Linemen's gloves are heavily padded, while football receiver gloves are soft and flexible. When buying football shoes, the player must decide what type of cleat is best for the underside of the shoe. Some shoes have various sets of cleats that can be interchanged based on the weather and field conditions. A football player should also wear an athletic supporter and appropriate socks, and may wish to consider wearing collar pads, rib vests, forearm pads, and hip and tailbone pads.