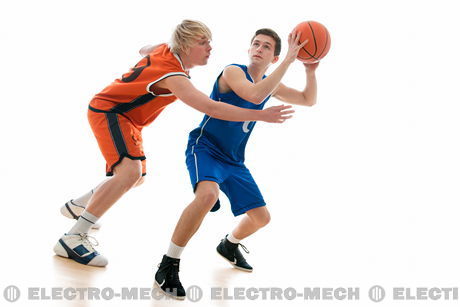 In the first part of this article, I wrote about 3 of the longest suspensions in NBA ever given for a non-drug incident. In this basketball scoreboards feature, I will continue from where I left off in the last article, and talk about 3 more incidents that led to long suspensions.
4 – 30 games, Stephen Jackson – Stephen Jackson was "awarded" a 30 games suspension in 2004 when he and Ron Artest zoomed into the crowd during a game and randomly started throwing punches at fans. He was among the nine players who received a suspension in the commonly known 'Palace Brawl'. Immediately after the incident, the players who were involved were handed an indefinite ban by the NBA, however the next day this decision was changed and the players were given their respective finite bans. Due to this ugly fight between the players and the fans, the game was stopped with the basketball scoreboards showing that there was just 45.9 seconds remaining in the game.

5 – 26 games, Kermit Washington – Nobody can ever forget the infamous punch of Kermit Washington in 1973; a punch that was heard all around the NBA. Washington was a great talented player and was known for his power but nobody knew that he would exercise this power in such an ugly way in a game against the Houston Rockets. Rudy Tomjanovich went to the aid of his teammate, Kevin Kunnert who was in a tussle with Abdul Jabbar but was punched to death by Washington, who saw him running towards him. The punch was so hard that the whole arena went silent and left Tomjanovich in a pool of blood. A former Rockets player recalls the incident and says that 'it was the loudest silence I ever heard'. Washington was fined $10,000 and handed over a 60 days unpaid suspension, the longest ever at that time. Rudy had to undergo five surgeries in order to recover from the devastating punch that effectively ended his career.
6 – 15 games, Jermaine O'Neal – The world saw a number of suspensions as a result of the Palace Brawl in 2004. Unarguably, it was the dirtiest brawl in the history of NBA that involved the players and the fans. Along with Ron Artest and Stephen Jackson, Jermaine O'Neal was also handed an indefinite ban for fighting with the fans and throwing punches at them. The next day the NBA announced that he will have to face a 25 game suspension. After an appeal to reduce his ban, it was decided by the arbitrator Roger Kaplan that O'Neal does not have to serve his final 10 game suspension and this meant that his ban was reduced by 10 games to 15 games. This decision was not welcomed and appreciated by the league, which said that a suspension for on court behavior of a player cannot be appealed to an arbitrator.
For more information on Jermaine O'Neal, go to:
http://www.nba.com/playerfile/jermaine_oneal/