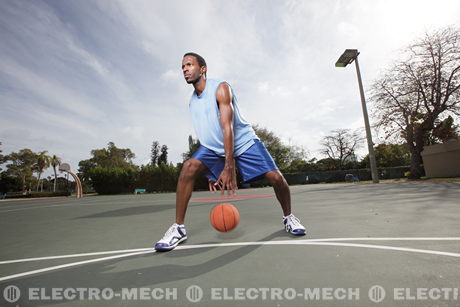 The NBA has changed a lot in the modern era. In the early days it didn't matter if a player was athletic or not, he just had to have a good height and the ability to score. However, nowadays the players have to possess incredible athleticism in order to survive in the league. It's just too tough out there to be a softy! In this basketball scoreboards feature, I have taken a look at five NBA players who have been particularly criticized for their lack of athleticism.
5. Gheorge Mureson
The huge man in the league was a great player of his time. Mureson had an amazing career especially in terms of blocking shots, but he was certainly not the most athletic. Luckily, he played in an era where athleticism was not one of the essentials of a basketball player or else it is doubtful that he would have prospered for so long in the game. His footwork was average but he lacked the stamina that was needed during a match.

4. Brian Scalabrine
Brian Scalabrine is a respectable modern day NBA player, and he has landed up with great teams like the Nets, the Celtics and currently he plays for the Chicago Bulls. He knows how to enjoy every moment in the game and is a hard worker, but his obvious lack of athleticism is a big drawback in his game. He is a huge guy who does not move well, which is the main reason behind his poor athletic qualities.
3. Jerome James
Jerome James is one of the big players currently plying his trade in the NBA but many pundits consider that he is good for nothing. I think the only reason he plays is because he knows he can knows he can make a good amount of money because of his BIG name in the league, which all came about from one streak of great performances five years ago. He is a low grade player, who lacks the athleticism to become great.
2. Pavel Podkolzin
This guy played for only 28 minutes in the NBA i.e. 6 matches only! These 6 matches were enough for everybody to remember his athletic ability for years. In a game between the Mavericks and Cavs, he got the ball with nobody around and everybody expected a dunk but as soon as he tried to jump, he was stripped. That incident made it clear that he does not even know the meaning of athleticism.
1. Shawn Bradley
There was no NBA player with such terrible athleticism as Shawn Bradley. He lacked stamina and speed, and apart from being non athletic, he was clumsy as well. Next time you think of entertaining your child, show him a video of Shawn Bradley playing!
For more information on Shawn Bradley, go to:
http://en.wikipedia.org/wiki/Shawn_Bradley