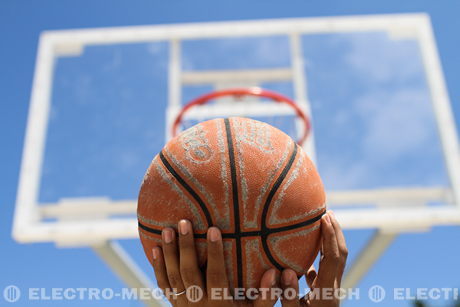 In my previous "basketball scoreboards" article, I discussed five amazing moments from the NBA postseason that we just witnessed. In this article I will continue from where I left and will discuss 5 more crazy moments – and in this article – the craziest of them all!
5. The return of Rajon Rondo
The Celtics guard, Rajon Rondo dislocated his elbow in the semifinals of the Eastern Conference against the Miami Heat. His injury was a great loss to the team and the fans were shocked, but his return later in the same game was astonishing! His return boosted and motivated the players and they went on to win the game. You won't be able to find any more faithful and dedicated player than Rondo!

4. The Mavericks erase a 15 point deficit
In the finals of the Western Conference, Dallas Mavericks against the Oklahoma City Thunder, the Mavs showcased a fantastic play by covering a 15 point deficit in just five minutes of regulation time that stunned everyone. Nowitzki' s 40 points in the game and Jason Kidd's 3-pointer with just 40 seconds left were the highlights!
3. The Mavericks eliminate the Lakers
Who knew that the two time defending champs would be eliminated by a team like the Dallas Mavericks? The Mavs put up an incredible play to eliminate the Lakers in the play offs and they wrapped up the series in the first four games. Nowitzki is the main reason why Mavericks played so well. Moreover, the Lakers lost seemed to lose their cool, and the spark that makes this team so incredible deserted them.
2. The Blazers overcome a 23 point deficit
In their series against the Dallas Mavericks, the basketball scoreboards showed that the Portland Trail Blazers were losing 67-44 on their home ground when suddenly everything changed. All credit goes to Brandon Roy! He was the one who pulled the Blazers out of such a disastrous situation and eventually won the game. He scored 18 points in the last quarter of the game, one of the best fourth quarters the franchise has ever had in its history.
1. Spurs Upset by the Grizzlies
The top seeded team of the Western Conference, the San Antonio Spurs were defeated by the Memphis Grizzlies in the play offs. The Grizzlies had never won a play off series ever, however this time they managed victory. Given the losing history of the Grizzlies, a quick wrap up was expected in the series but nothing of the sort happened.
For more information on the NBA, go to:
http://www.nba.com/finals/2011/index.html