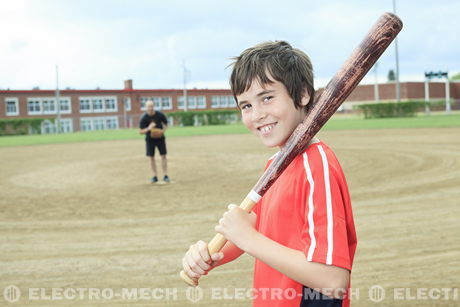 The fastest baseball pitchers in history are difficult to pin down due the lack of reliable measuring devices in the early years. The fastest baseball pitch ever recorded, according to the Guinness Book of World Records, is Nolan Ryan's 100.9 mph fastball thrown in a game against the Chicago White Sox in 1974. That record has been eclipsed by various pitchers and we've included a list of the fastest baseball pitches below. The fastest recorded baseball pitch as of this writing was accomplished by Joel Zumaya in October 2006. The fastest pitch in baseball history may soon be recorded by a college junior who routinely throws over 100 mph.

Electronic baseball scoreboards in major league stadiums, college parks, and high school fields display the speed of the last pitch. The magic number for scouts and fans alike is the triple digit 100 mph. In fact, some medical professionals don't believe that the arm can withstand the shock of throwing any harder than the current fastest baseball pitch ever recorded. Then again, many years ago the four minute mile was an impossibility until Roger Bannister broke that barrier.
The Fastest Baseball Pitchers of the Current Era
Eight of the top 10 fastest baseball pitches recorded all occurred in the last 5 years. Joel Zumaya shattered the old mark of 103 mph set by Mark Wohlers in 1995 when he hurled the fastest recorded baseball pitch of 104.8 mph at McAfee Coliseum in 2006. There are quite a few pitchers who have exceeded the 100 mph mark over the years and the top 10 include:
• Joel Zumaya – 104.8 mph pitch in 2006
• Mark Wohlers – 103 mph in 1995
• Armando Benitez – 102 mph in 2002
• Matt Lindstrom – 102 mph in 2007
• Randy Johnson – 102 mph in 2004
• Bobby Jenks – 102 mph in 2005
• Justin Verlander – 102 mph in 2007
• Robb Nen – 102 mph in 1997
• A.J. Burnett – 101 mph in 2005
• Johnathon Broxton – 101 mph in 2007
So who threw the fastest pitch in baseball history? No one can really say for sure. Steven Dalkowski played minor league baseball in the 1950's and many declare him as one of the fastest baseball pitchers in history. Although he had control problems and never made it to the majors, the speed of his fastball earned him the nickname of "White Lightening." It is said that the great Ted Williams faced Dalkowski in spring training and declared him the fastest ever.
Who's on Deck as the Fastest Pitcher?
Many scouts have been watching Stephen Strasburg who pitches for San Diego State where he routinely throws 101 mph. His coach states that he has thrown as fast as 103 mph…not bad for a college junior. And get this, he isn't a closer. He's a starter who continues to throw in triple digits throughout the game. The Washington Nationals are said to be looking at him and who can blame them. Having, potentially, one of the fastest baseball pitchers of all time on your roster can only be a good thing!