Model LX1138 Baseball Scoreboard
The LX113x series offers a lot of scoreboard options in a small package.  We started with our simple LX1030 design, which features bullet-style Ball, Strike, and Out Counts along with 18-inch tall numbers for Runs and Inning.  We added two feet to the cabinet, bringing the size up to 8 feet x 6 feet.  This provides space for either Pitch Counts, a Timer, or both.  Like many of our smaller scoreboards, these Softball/Baseball models can be configured with a built-in side ID panel for advertisements, team logos, or other artwork.

Model LX1138 includes 11-inch tall LED digits forming a 4-digit Timer to count Minutes and Seconds.  You can also set the control console to display time of day on these digits.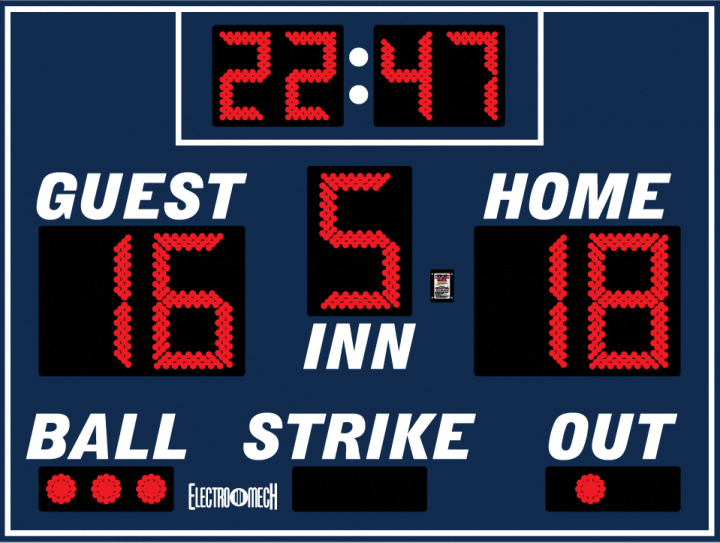 Dimensions:

8 ft x 6 ft

11 ft × 3 ft

11 ft × 3 ft

Weight:

180 lb

480 lbs

480 lbs

Digit Height:

18 in, 11 in

Electrical:

120 VAC, 1.4 amps

120 VAC, 4.8 amps

120 VAC, 7.6 amps
Choose Colors:
Documentation and Details:
Specifications
Owner's Manuals
Model LX1138 Installation Examples:
Bethany Mennonite Church
Fresno, CA, 99720
Cabell Midland High School
Ona, WV, 25545
Johnson County Recreation Dept
Wrightsville, GA, 31090
City of Rockmart
Rockmart, GA, 30153
Cleveland Parks & Rec
Cleveland, TN, 37311
Cleveland Parks & Rec
Cleveland, TN, 37311
Walsh Park
LaGrange, KY, 40031
Maiden Recreation Dept
Maiden, NC, 28650
Cartersville Parks & Recreation
Cartersville, GA, 30120
Amesbury High School
Amesbury, MA, 01913
French Camp academy
French Camp, MS, 39745
Wilcox Co Rec
McRae, GA, 31055
Toombs Middle School Baseball
McRae, GA, 31055