Model LX1135 Baseball Scoreboard
The LX113x series offers a lot of scoreboard options in a small package.  We started with our simple LX1030 design, which features bullet-style Ball, Strike, and Out Counts along with 18-inch tall numbers for Runs and Inning.  We added two feet to the cabinet, bringing the size up to 8 feet x 6 feet.  This provides space for either Pitch Counts, a Timer, or both.  Like many of our smaller scoreboards, these Softball/Baseball models can be configured with a built-in side ID panel for advertisements, team logos, or other artwork.

Model LX1135 offers 11-inch tall LED digits forming a 3-digit Timer to count Hours and Minutes.  This style of Clock is useful for timing a series of games or other events that last several hours.  To the left of the Hours digit you will see a Clock Activity Indicator that blinks to let you know when the Clock is running.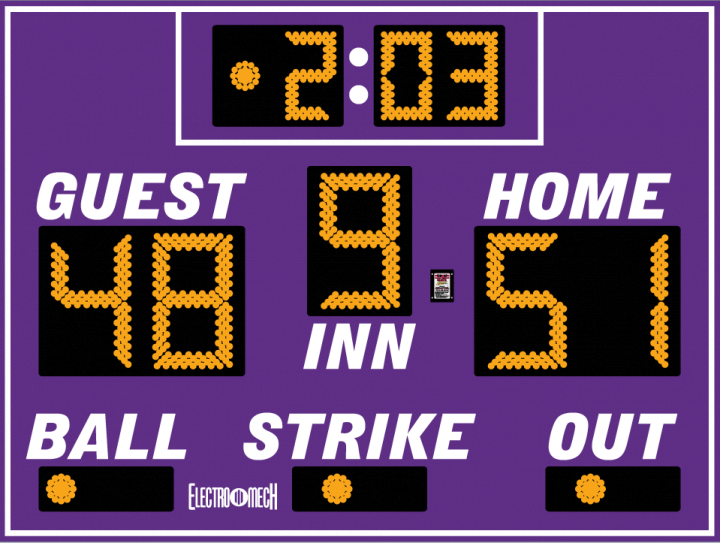 Dimensions:

8 ft x 6 ft

11 ft × 3 ft

11 ft × 3 ft

Weight:

180 lb

480 lbs

480 lbs

Digit Height:

18 in, 11 in

Electrical:

120 VAC, 1.3 amps

120 VAC, 4.8 amps

120 VAC, 7.6 amps
Choose Colors:
Scoreboard Face
Accent Striping
LED Color
Documentation and Details:
Specifications
Owner's Manuals
Model LX1135 Installation Examples:
Dumas Little League
Dumas, TX, 79029
Green Co.Park Board
Greensburg, KY, 42743
McCloud Field
Dalhart, TX, 79022
Bedford Parks Dept
Bedford, IN, 47421
City of Gainesville
Gainesville, FL, 32609
Gilmer County Recreation
Ellijay, GA, 30540
Avanti's Dome
Pekin, IL, 61554
City of Gainesville
Gainesville, FL, 32609
Gilmer County Recreation
Ellijay, GA, 30540
Fair Grove Boosters
Thomasville, NC, 27360
South Siskiyou Little League
Mt.Shasta, CA, 96067
Shaffer Park Baseball
Hillsboro, OH, 45133
Accomack County Parks & Rec
Accomac, VA, 23301
City of Gainesville
Gainesville, FL, 32609