Model LX1164 Baseball Scoreboard
The LX116x series is an expansion of our popular LX1060 Baseball scoreboard design.  With customers often requesting the addition of Pitch Count and Timers to the original 10 ft. x 5 ft. scoreboard, we decided to offer an array of standard packages in a single 10 ft. x 7 ft. cabinet.  For Pitch Count only, select LX1160.  Or combine Pitch Count with a Timer.  Or choose the Timer without Pitch Count.  All the combinations in this series offer the option to upgrade to Electronic Team Names.

Model LX1164 is one our most densely packed scoreboard displays.  The top section includes a 4-digit Timer and Double Pitch Counts -- a total of eight 11-inch tall LED digits.  The Clock can be configured to count up, count down, or show Time of Day.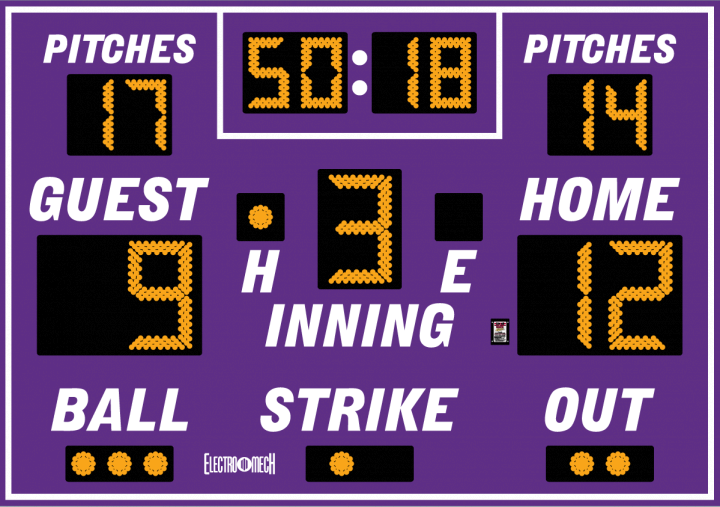 Upgrade to Electronic Team Names (ETNs)
Dimensions:

10 ft x 7 ft

11 ft × 3 ft

11 ft × 3 ft

Weight:

220 lb

480 lbs

480 lbs

Digit Height:

18 in, 11 in

Electrical:

120 VAC, 1.8 amps

120 VAC, 3.0 amps

120 VAC, 4.8 amps

120 VAC, 7.6 amps
Choose Colors:
Scoreboard Face
Accent Striping
LED Color
Documentation and Details:
Specifications
Owner's Manuals
Model LX1164 Installation Examples:
White Plains
Anniston, AL, 36207
Lyons Park & Recreation
Lyons, GA, 30436
Aragona Pembroke Little League
Virginia Beach, VA, 23455
Recreation & Parks Dept
Spartanburg, SC, 29301
North Spartanburg Park
Chesnee, SC, 29323
Thomasville Rec.Dept
Thomasville, GA, 31799
Carson City Pop Warner
Carson City, NV, 89702
Wtaerbury PAL League
Waterbury, CT, 06704
Morristown Parks & Rec
Morristown, TN, 37813
Greenfield Little League
Greenfield, CA, 93927
Julien Elementary School
Turlock, CA, 95380
Newport Parks & Rec
Newport, TN, 37821
BOARD #2 4'6" CENTERS
Mount Pleasant, SC, 29466
Newport Parks & Rec
Newport, TN, 37822
Jesse Gallardo Park
Soledad, CA, 93960
Carson City Pop Warner
Carson City, NV, 89702
City of Taylor
Taylor, MI, 48180
Daphne Sports Complex
Daphne, AL, 36526
Lakewood Community Center
Waycross, GA, 31501
Pierce Co.Rec
Waycross, GA, 31501
Carson City Little League
Carson City, NV, 89702
Carson City Pop Warner
Carson City, NV, 89702
Evans County Rec Dept
Cllaxton, GA, 30417