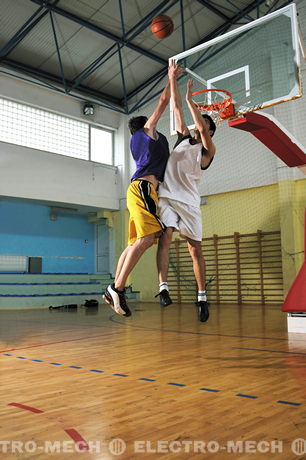 College basketball recruiting is one of the hottest topics around. Each school is on a rapid up lane, fast paced move to catch the biggest and brightest starts. Basketball sells, and nothing sells better than a winner school team. College basketball fans are some of the most loyal and passionate in existence and the world of college basketball recruiting means success to those that pick the best. College recruiting has therefore become a pinnacle showcase, with both schools and recruiters doing everything from previewing prospective stars and their talents on the internet to going into the trenches, on-site to view the players.

The art of college recruiting for basketball is a complicated process, comparable to some of the most savvy business strategies. It's all in who you know, how you work it and getting the information fast. The internet offers the initial preview, from stats, videos, and photos. The relationships between high schools and college are becoming closer as each can share a piece of the glory in catapulting a top star into position. And it doesn't seem to stop there. The school recruiters themselves have taken to electronic communication with social media and blogs. If a player is looking to pursue a school and meet a recruiter virtually, there is no limit to the amount of information that they can get for pre-contact. As our society makes the transition from computer to net-based smartphones, the future of recruiting will be even more adventurous.

Basketball has reached beyond the shores of the U.S. and some schools are not only previewing our talent, but the talent across the seas. This is perfectly exemplified by the most recent LSU interest in Australia's point guard, Rysheed Jordan. The Canarias Basketball Academy in the Canary Islands has made their showing to play in two games in New Jersey prior to their usual three games at Providence, Rhode Island's National Prep School invitational. Canarias has brought an enormous amount of basketball talent over the years, placing some really good players in a variety of colleges.
Closer to home, The Cincinnati Bearcats are overjoyed at the commitment they received from their top recruiting target (and an ESPN 100 power forward) Jermaine Lawrence from Springfield Gardens, NY. Lawrence is ranked number 19 in the overall prospectus in the Class of 2013. Other schools that are celebrating include Stony Brook, who received a verbal commitment from Chris Braley, of Phillips Exeter Academy in New Hampshire. They are getting a fantastic 3-point shooter that has the capacity of making shots by the boatload. Farleigh Dickinson is also dancing the happy dance, as the head coach Greg Vetrone received a commitment from Notre Dame Prep Donnele Munda.
A hot prospect that everyone is calling is Tory Miller, junior center at Lee's Summit, MO/New Hampton School. It seems that ESPN covered a live broadcast for the New Hampton vs Huntington Prep game at the Spalding Hoophall Classic. This was a moment of glory for Miller and now he is being pursued by a number of schools, looking to recruit-to-join.
Sources: http://espn.go.com/college-sports/basketball/recruiting/index