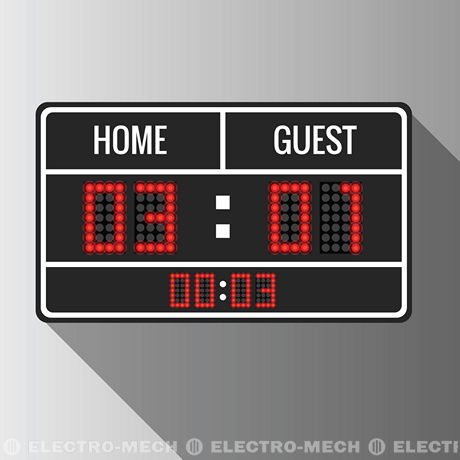 If you are like most people undertaking the purchase of an electronic scoreboard, this was an assignment that you were given and you are accomplishing your due diligence by getting all of the information needed. Your homework may seem daunting, but, we have put an easy to use list together for you so that you can be assured that you will get the highest quality, best pricing and truly the electronic scoreboard that you and your team or school want.
Below is just a preliminary list of things to think about and consider as you move forward in getting your electronic scoreboard.

Indoor or Outdoor?
The first consideration is the location of the scoreboard. Is the scoreboard going to be outside or inside? This is an important choice because outdoor scoreboards are constructed a bit differently as they have to stand up to the grueling elements of weather.
Portable or Permanent?
Do you need a permanent scoreboard or one that you can load and take to the various sporting events of the team? These two styles are made with completely different manufacturing needs, so this is a major decision from the get go.
Board Color or Colors?
If you have a standard color or color for your team or school, you might want to think about the color scheme. The colors and baking process is of the highest quality, designed to stand up to even the harshest lighting conditions.
Additional Identification Paneling?
This is the area where you will post your team, school or stadium name and the logo. This is one of the best selection areas, as it identifies total ownership of the game.
Sponsorship Paneling?
If you haven't already thought about sponsorship, this should be top-of-mind. Sponsorship areas should be easily changeable with logo, product, phone number and general info for your sponsor(s). Sponsorship carries an incredible return on investment and will help to pay for the electronic scoreboard.
Control Consoles?
While some only use one control console, a more recent trend has been to order two or more for multiple control access.
Wireless?
This decision is important for outdoor scoreboards and you may want to choose a wireless system for an indoor scoreboard so that you can avoid installation/burying a lot of cables.
Cable Length?
You probably already have an idea where you want to put the scoreboard, whether it is new or replacing an old or existing one. Cable length will be important to ensure the perfect installation.
Other Accessories?
There is quite a selection of additional accessories, including goal lights, audio system considerations, game timer controls, LED Backlit lightbars, internet connectivity (wireless vs wired), carrying cases for the controllers. It's a good idea to bring in your technical team to talk about these topics so that you can plan for the best scoreboard with the bells and whistles you need within the budget.
Your choice of type, style, color and accessories for your team, school or stadium scoreboard will be easier when you accomplish the initial 'homework' decisions. The electronic scoreboard is destined to create the energy and fun you want, and we are here to help you with this journey by offering the best product and highest quality consultation.