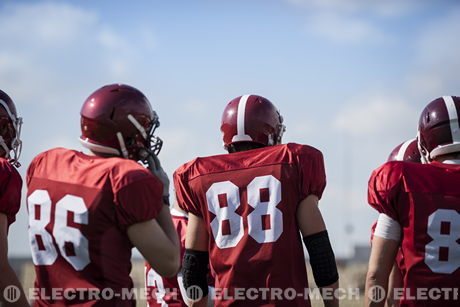 The best offense is a good defense…or is it the best defense is a good offense? Football is a game where this particular saying doesn't always matter because no matter how good your offense is, if your defense isn't stopping the other team from gaining ground then it's a moot point and vice versa! Therefore, it is safe to say that both aspects of the game are complementary and not substitutes of the other. With that in mind, in a football scoreboards feature, I have taken a look at the best quarterbacks. A team's offense is only as good as its quarterback and his leadership!

Tom Brady, Patriots – This is a no brainer! Tom Brady is having one of his career best seasons. He's having the kind of season that every QB wishes he could have. During the regular season, the football scoreboards show that Tom Brady managed to complete 65.9 percent of his passes, 36 touchdowns (career's 2nd best) and threw for a whooping 3,900 yards (career's 4th best) with only 4 interceptions (career's lowest) and a QB rating of 111.0. Even after the Patriots' disappointing loss to the Jets, Tom Brady is probably the NFL player of the year! This is supported by the fact that he is the number one candidate for this year's MVP award.. and why wouldn't he be with stats like his! He is also the only player to have thrown 339 consecutive passes without an interception, which gives him the edge over all the other MVP candidates this year.
Michael Vick, Eagles – The only quarterback who has threatened to give Tom Brady a run for his money is Michael Vick. Everyone knows that Michael Vicks struggled in the past few years (although he brought it on himself) but he has made the most of his second chance and the Eagles are reaping the benefits! During the season, Michael Vick threw for 3018 yards with 6 interceptions and 24 touchdowns, although this was marred by 9 fumbles as well. He also managed to complete 676 rushing yards and 9 rushing touchdowns. In all, these represent his career best stats since he was drafted by the Falcons in 2001. However, his efforts during this season fall short for an MVP because, unlike Tom Brady's consistent performance, he did not maintain this high level all througout the season.
Philip Rivers, Chargers – Even though the Chargers are not the best of teams (to put it kindly), Philip Rivers is – and he is considered one of the best quarterbacks today. Philip Rivers has great talent, which he shows every time he is on the field; but he just does not have a good enough team to back up his efforts. This season, Philip leads the league in passing yards – 4,710. During the season he made 30 touchdowns, with a QB rating of 101.8, 13 interceptions and a 66 percent pass completion rate.
For more information on Philip Rivers, go to:
en.wikipedia.org