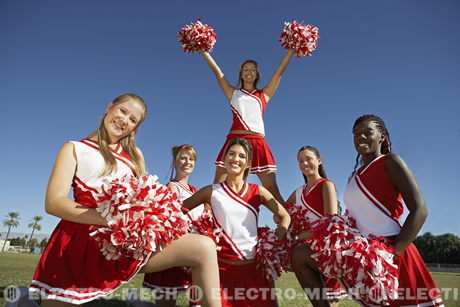 The first organized cheering occurred at University of Minnesota rugby games in the late 1800s
Cheerleading was originally an all-male activity, but women began participating in the early 1900s
Lawrence Herkimer formed the National Cheerleaders Association in 1948

And cheerleading is only part of many topics we cover here at Electro-Mech. As an electronic football scoreboards manufacturer, we understand the importance of covering a variety of sports material, especially the latest on trends and fresh perspectives on sports history concerning the world of football. Just read on to discover what we mean.
First Organized Cheering
Rugby players at the University of Minnesota created the first organized cheering in the 1880s. John W. Adams and "Win" Sergeant adapted a Native American victory exclamation, used in athletic contests, to create the following cheer:
"rah RAH rah
sky OO mah
minn SO ta"
In 1898, Minnesota student Jimmy Campbell directed the crowd at a football game in using an adapted form of the cheer. The cheer is still in use today, in a somewhat different form, at university sporting events.
Development
During the early 1900s, gymnastics and megaphones were incorporated into cheerleading routines. Women began as participating as cheerleaders for the first time, owing in part to the lack of athletic activities for women.
A former cheerleader at Southern Methodist University, Lawrence "Herky" Herkimer, played a pivotal role in bringing cheerleading into the modern age. In 1948, Herkimer founded the National Cheerleaders Association (NCA), with the intention of using it as a vehicle to hold cheerleading clinics. Herkimer devised numerous basic routines and implements and also started a uniform supply company.
Recent Changes
Organized cheerleading became widespread in high schools during the 1960s. College cheerleaders taught basic skills to many of these high school cheerleaders. In 1965, Fred Gastoff invented vinyl pompons, and they were popularized by the International Cheerleading Foundation, now called the World Cheerleading Association.
In the 1960s professional football teams began to incorporate cheerleading as part of the entertainment package offered at their games. Although the Baltimore Colts were the first team to have an organized cheerleading squad, mass popularity was first achieved by the Dallas Cowboys Cheerleaders. The Cowboys' cheerleaders gained popularity partly for their skimpy outfits and elaborate dance moves. The emphasis began to shift away from actually leading fans in cheers and toward developing sophisticated dance teams. Electronic scoreboards took over some of the "rallying the crowd" functions formerly assigned to cheerleaders. Today, cheerleaders appear mainly at football and basketball games. Other sports that have cheerleaders include soccer, ice hockey, volleyball, baseball, and wrestling. Some of the more popular college and professional squads have websites and licensing agreements.
Competitions and Safety Organizations
In the 1960s the International Cheerleading Foundation began ranking the best college cheerleading squads. This led to actual competitions between top teams. The first broadcast of a national college cheerleading competition appeared on CBS in 1978. In 1983 ESPN began broadcasting high school competitions.
Started in 1987, the American Association of Cheerleading Coaches and Advisors (AACCA), along with other organizations, seeks to reduce injuries and discourage dangerous stunts and formations from being incorporated into cheerleading routines. To offer safety training for school and other cheerleading coaches, safety experts formed the National Council for Spirit Safety and Education (NCSSE) in 2003. In addition, cheer coaches for NCAA schools must complete a certified safety-training program.