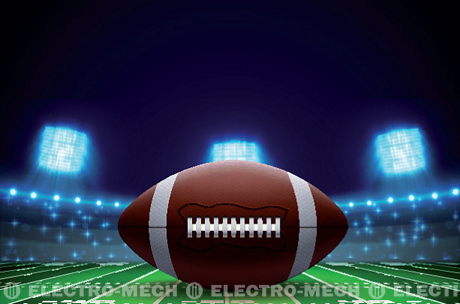 In a football scoreboards feature, we take a look at the top 10 players who have lit up the NFL with their speed.
Speed is by no means the most important skill in football, but it certainly gives players a big head start in their bid to get to the top. Along with ball handling, strength, game intelligence, coordination and fitness, it is one of the skills that the best players possess.

Speed is exciting, however, and one of the fans' favourite questions is, "who is the fastest of them all?" Whilst there is no Usian Bolt in the NFL, there are plenty of ultra-fast players who light up or have lit up the football scoreboards on a regular basis. In the list below we count down the 10 fastest players ever to have graced the game.
10 – Don Hutson
If you haven't seem much of this guy, then check out the highlight real. He would plough past cornerbacks, embarrassing them in the process. This is one of the players that really defined the game as it is today. An absolute legend.
9 – Jerry Rice
His 40 meter time was only average, but in the game he managed to run past statistically faster people than him on a regular basis. Regarded by many as the greatest runner in the NFL ever.
8 – Bo Jackson
The speediest running back on this list. A career plagued by all sorts of problems means that we will never really know what he could have achieved.
7 – Randy Moss
As a Viking, he enjoyed the fastest years of his career, but even in his 30's he was the deep option for Brady, despite the slick Stallworth knocking on his door for that position.
6. Joey Galloway
He is 37 now, but he still does not seem to have lost any of his fantastic speed. Few players have aged quite as well as Joey. Defenses shudder when he comes on to the field.
5 – Willie Gault
For his time he was a blazer. A key player in the 1985 Super Bowl winning Bears team, his speed puts him into this list with no questions asked.
4 – Devin Hester
Generally considered the speediest punt returner of all time. He is famous for his amazing kick return on the very first play of the 41st Super Bowl.
3 – Deion 'Primetime' Sanders
The most versatile and the fastest player of the modern era. Every time he got hold of the ball fans would hold their breath in anticipation of a big play. He used his speed on special teams, to return interceptions and to score some great touchdowns.
2 – Darrell Green
A great team player who would not try to show off (which is more than can be said about many players). He has many impressive interceptions and rip-roaring speed.
1 – Bob 'Bullett' Hayes
Overall Hayes was not a great player. He missed a lot of catches, and he was not the best route runner. However, his famous nickname, his Olympic and Super Bowl medals, and of-course his astonishing speed will mean that no NFL fan will ever forget this guy. A cornerback's nightmare, he would make even the best of them look slow.
For more information on the NFL, go to: www.nfl.com