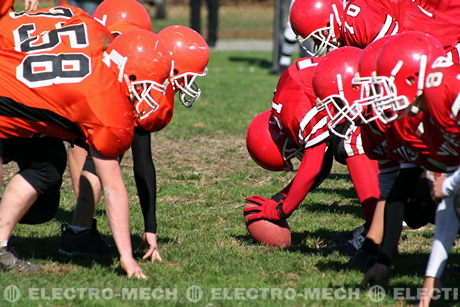 In a football scoreboards feature, we take a look at some of the glamour players of the game: the ones who leave everyone else in a trail of dust.
Speed has always been one of the most prized skills in the NFL. It doesn't matter how solid a catcher a player is or how good a tackler he may be, for many positions the player has to have great speed if he is going to succeed at the highest level. The fastest players in the game are not only some of the most adored, but also the most coveted. Along with the quarterbacks, they generate the most highlight reels, and many of the most memorable moments in the game as a whole.

The running back position is where, traditionally, the fastest players congregate. However, in the list below of the quickest players of all time (in no particular order) you will see that it is not only running backs who are the fastest.
Jerry Rice. Surprisingly his 40 yard times were not actually that outlandish, but when on the field, there was not a single player who could match Rice's speed. His many records demonstrate quite what a force this player was. Internationally, he is probably the most famous non-quarterback.
Randy Moss. When he was at his prime with the Minnesota Vikings, there was no one as quick as Randy Moss. In addition, Randy had the most reliable of hands, and it was a rare event for him to drop a pass. Just a shame that he had such a sketchy temperament, and did not play for a better team.
Bo Jackson. His stats say it all: he holds the fastest 40 yard dash team ever to be recorded in the league. We never saw as much as him as we would have liked, after his hip injiry cut short his career, but when he played he clocked up no less than 2,782 yards and 16 touchdowns in four seasons.
Chris Johnson. In one season he clocked up 2,000 rushing yards, and no running back has achieved that feat since. The most incredible thing is that this came when playing for the Tennessee Titans, when they had a terrible start at 0-6. Whilst most of the rest of the team where playing badly, Johnson was using his terrific acceleration and speed to clock up so many yards.
Barry Sanders. Possibly the quickest back ever, Sanders used his speed to leave defenders eating the dust of his shoes as he (once again) ran past them. He ran for more than 1000 yards in every one of his ten seasons, and ran for more than 2000 yards once (97-98).
Deion Sanders. One of the very best corners ever to have played in the NFL, he had incredible speed which enabled him to position himself around the receivers and make regular pass interceptions.
Eric Dickerson. In his rookie year he ran for over 1800 yards and scored a whopping 18 touchdowns. In his second season he then outdid himself by running for over 2100 yards! Stunningly quick, Eric used this to become one of the very few running backs to have scored over 10,000 yards in his career.
Joshua Cribbs. He is one of the best kick returners ever to have played in the NFL. His straight line speed is phenomenal, and as well as this the speed at which he can change direction is outstanding. This combination of quickness and agility can leave mere mortal defenders looking stupid!
For more information on the NFL, go to:
nfl.com