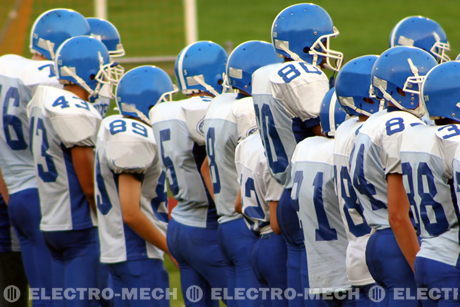 Here are what are quite possibly the worst teams ever to have embarrassed themselves on the gridiron, listed in no particular order.
Football scoreboards terrible team 1 – Miami Dolphins: 2007: 1-15-0
I'm sure that most fans will agree that the performances of this team in 2007 were some of the worst ever seen in the NFL. During the season, off field scandals hampered the team, as four of the players were arrested for various offenses. After this, Cam Cameron was brought in and he was the 7th head coach in the team's history. Straight away, he fired 7 out of the 11 existing coaches, and got rid of a large number of worthless players, such as McMichael and Morris. The record of one win and 15 losses at least had one win on it. This was against the Baltimore Ravens in overtime.

Football scoreboards terrible team 2 – Carolina Panthers: 2001: 1-15-0
An overweight rookie quarterback was brought in, heavy reliance was placed on a fumbling and injury-prone receiver, and they lost 15 in a row. Their only win of the season came in the first game, which clearly gave the fans false hope. They managed to win their opener as a 10-point, but then it all went wrong, and they lost 15 in a row!
Football scoreboards terrible team 3 – Cincinnati Bengals: 1993: 3-13-0
David Klingler took Boomer Esiason's place at QB and had a torrid season. Cincinnati ended the season last in points and one from last in yards. In the entire season they rushed for a woeful three touchdowns. Harold Green, was the team leader in terms of rushing, with a laughable average of 2.8 yards per carry.
Football scoreboards terrible team 4 – Indianapolis Colts: 1991: 1-15-0
In 1991, the Colts came out last in points scored and last in yards gained. On top of this, there defense was dreadful too, and was the third-worst in the league in 1991. The Head Coach, Ron Meyer, managed to get to the 5th game of the season, and fifth loss, before being fired. His replacement, Rick Venturi, will have wished that he never took the job, although he did at least save some face by squeaking one win out for the Colts. How bad were the Colts? This season the Colts averaged an just 8.9 points per game!
Football scoreboards terrible team 5 – Buccaneers: 1976: 0-14-0
They scored zero points for no fewer than five games. They were outscored 411 to 125 on the season. The opposition hammered them with an average margin of victory of 21 points per game. In four games, the opponents scored 40 points or better. A truly woeful NFL team!
For more information, go to: nfl.com