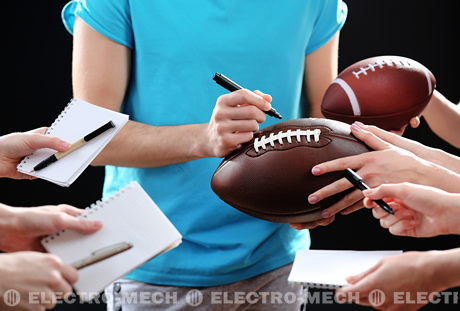 There have been a number of players who have played in the NFL at or above the age of 40 and have performed like they were still young sprightly players in the twenties. Their passion for the game did not die with time, and their bodies somehow managed to withstand the rigours of the NFL year after year. The oldest player to ever have played in the history of the NFL was 48 years old when he retired. Here is a football scoreboards list of the players who played in the NFL at or above the age of 40:

1.George Blanda
George Blanda was the oldest player in the history of the NFL. He retired at the age of 48, just short of his 49th birthday. The football scoreboards showed that he played for 3 teams in his career; the Chicago Bears, Baltimore Colts and Oakland Riders. He played a large part of his career at the Oakland Riders and holds the record for the most season of NFL football: 26. He was a quarterback and played for four decades, in which he saw many changes in the game of football. He was also a great kicker and continued to kick exceptionally well until he (finally!) retired.
2.Morten Andersen
Morten Andersen retired at the age of 47. He played for various teams such as the New Orleans Saints, Atlanta Falcons, New York Giants, Kansas City Chiefs and Minnesota Vikings. He played the most for the New Orleans Saints: 13 seasons. He holds the record of the highest scorer in the history of the NFL, and also is the only player to hold the record for the highest scorer for 2 teams; the New Orleans Saints and Atlanta Falcons. He was an outstanding kicker and maintained his form right up to the end of his career.
3.John Carney
Carney has not retired yet and is a free agent. He is now 46 and has played for a number of teams such as the Kansas City Chiefs, New York Giants, New Orleans Saints, San Diego chargers and many more. In the 2009-2010 season he was with the New Orleans Saints where he helped players to improve their kicking ability. He was working as a kicking consultant with the team, however, when the Saints' kicking specialist, Hartley, missed some crucial field goal attempts, Carney resigned. He is only the 6th player to have played a total of 300 games in his career. At the tender age of 46 we can now saftely say that his career is over!
For more information on the NFL, go to: en.wikipedia.org