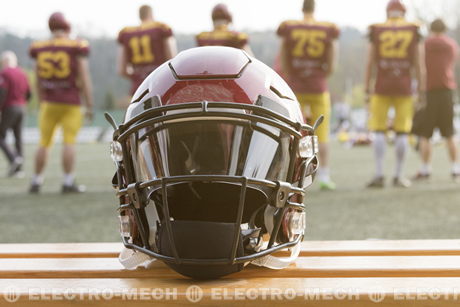 Which players will the NFL football scoreboards be showing soon?
Prince Amukamara – CB – Nebraska – 7.3: Amukamara is NFL big, at 6 feet and 201 pounds, and he uses this size to shut down opponents regularly. Over the past two seasons he has shown terrific improvement and as a result the scouts are very excited about him.

Adrian Clayborn – DE – Iowa – 7.3: Clayborn is a classic pass rusher with enormous talent. However, he needs to improve his defence skills.
Mark Herzlich –OLB -Boston College – 7.2: This grade is the same as the one he was given last year. One year ago he was diagnosed with cancer.
Allen Bailey – DL – Miami – Fl – 6.9: For a long time Miami was known for developing quality defensive linemen, but since 2004 they have not had one selected in the first round. This guy, however, can play in a variety of positions up front, and looks set to be the first such Miami success story in 6 years.
Von Miller –OLB – Texas A&M – 6.9: Von Miller looks set to start the season as the number one outside linebacker.
Greg Romeus – DE – Pittbugh – 6.8: Romeus has been the most important link in the Panthers defence since his first season. He is a great athlete with an NFL physique – at 6 foot 5 and 267 pounds.
Marvin Austin – DT – North Carolina – 6.7: Scouts vary in their opinion on this player. What is clear though is that he has great physical ability, which is on a par with any other defender in his class.
Christian Ponder – QB -Florida State – 6.7: Although his stats on the college level are not that eye-popping, he is considered the most NFL-ready QB in his class and looks set to light up the football scoreboards.
Jake Locker – QB – Washington – 6.7: Locker possesses the athletic skills and leadership ability to be a centerpiece NFL star, but he needs to continue to work on his throwing consistency.
Stephen Paea – DT – Oregon State – 6.5: Paea, measures 6 foot 1 inch and weighs 306 pounds, and has great style and substance.
Anthony Castonzo – T – Boston College – 6.5: Castonzo is tall, at six foot 11, and a very athletic pass protector. He has the ability to establish himself at the left tackle position at the next level.
Pernell McPhee – DE – Mississippi State – 6.4: McPhee was dominant in the SEC in 2009. He is a fantastic pass rusher, and can hold up well defending the run.
Stefen Wisniewski – C – Penn State – 6.4: Wisniewski, just like his father before him, plays a clever and tough brand of football.
Jeremy Beal – DE – Oklahoma – 6.3: Beal has had a great couple of seasons. He combined for 34.5 tackles and 19.5 sacks.
Ross Homan – LB – Ohio State -6.3: Considered by many scouts as a better NFL prospect than James Laurinaitis.