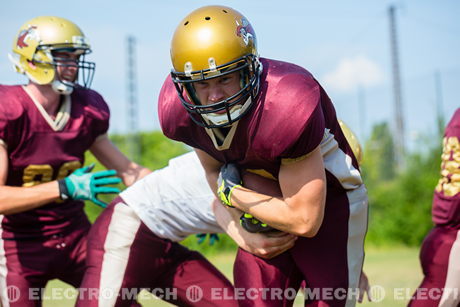 In a football scoreboards feature, we take a look back at the NFL's most mean defenses ever. It might not be pretty, but its effective!
Every fan of the game has heard it so many times that it probably just ticks them off: the best defense wins the game. This principle is true for every sport, but even more so when it comes to American football. The offence is, no doubt, important too, but it has been observed that more often than not it is the team's defense that is the number factor in bringing it postseason glory. A good example of this can be seen in this year's Pittsburgh Steelers team. The Steelers have a strong offense, but it is obvious that most of the credit for their successful season so far rests at the helm of their defense.

With that in mind, here are the NFL teams who have been known to have the best defenses at one point in time or another:
1.Pittsburgh Steelers – our list kicks off with the team we have already establish to have a great defense, the only difference is that the Pittsburgh Steelers had an even better defense in 1976. All you have to do is imagine the famous photo of Jack Lambert, linebacker, with his missing teeth to gauge what the defense was all about. In the last 8 games of 1976, opponent teams were able to average a dauntingly low score of only 3.1 points a game, which is why the team became to be famously known as the Steel Curtain.
2.Chicago Bears – the Chicago Bears team of 1985 ranks 2nd in the list of the teams with the best defense. The Chicago Bears were defended by the likes of Walter Payton (running back), Mike Singletary (linebacker), William Perry and Dan Hampton (front defensive line). Together they were such a brilliant and effective force that they allowed opponent teams to only score 10 points in 7 games.
3.Minnesota Vikings – In 1971, the Minnesota Vikings were famously known as the Purple People Eaters. Their defensive strategy was to choke the quarterback, which is how their defensive motto "meet at the quarterback" was coined. As a result, the opponent quarterbacks could only average an efficiency rating of 40.4. Their defense was anchored in Alan Page who won defensive and league MVP honors.
4.Baltimore Ravens – finally a team with a good enough defense to qualify for the list from this decade. The Baltimore Ravens had a superb defense in the year 2000 and it was the same year they had their Super Bowl win. In 2000, the Baltimore Ravens had a desperately pitiful offense, but thankfully their defense saved the day each time except in the 4 games that they lost. Over the entire season, the Baltimore Ravens only gave away an average of 10.3 points per game to their opponents.
For more information, go to:
en.wikipedia.org