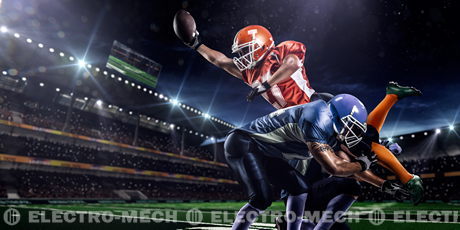 In a football scoreboards feature, I have collated the biggest 3 flops of last year. It turns out that they are some of the biggest names in the game too…
Football is like a religion for America and their teams are like Gods to many fans. So, needless to say the fans put their teams on pedestals that are so high, they usually get dizzy and fall at one time or the other! With the money players are recieving nowadays, the fans expect great things from their teams and from particular players. So, regardless to say, when their teams and/or players don't perform they get (to put it mildly) disappointed. And thus; rise up, the top 3 most disappointing players in the NFL in 2010!

3. Carson Palmer – and the list kicks off with the Cincinnati Bengals' Carson Palmer! In 2010, Carson managed to break new boundaries for his career; sadly for him and much to the disappointment of his fans (worshipers?) these boundaries were facing due south! The football scoreboards showed that he managed to throw 3,970 yards, with a total of 26 touchdowns accompanied with a measly 20 interceptions, which were the worst for him in his career. This fallen player held himself responsible for a number of the Bengal's losses, but regardless of his show of leadership he was still booed out of the Paul Brown Stadium several times. However, he is still a fine player and his team still has confidence in him, apparent by Marvin Lewis's statement that Palmer will be the QB for 2011 (or could be just that he's under contract till 2014!)
2. Randy Moss – Randy Moss is like the bad tempered, always angry foster child that nobody wants and keeps getting thrown from one foster home to another. He had great talent and an even greater potential, but he also had potentially great talent for attracting controversies. Apparently, he is also a very big headed person; right after the week one win against the Bengals, he started demanding a new contract! Instead, he just made his point for Belichick who instead of offering Moss a new contract with the Patriots sent him off the Vikings. The Viking soon kicked Moss out for his outburst over a catering issue in the locker room, because they simply didn't have an opening for an ill tempered, underperforming wide receiver! After the Vikings, he was picked up by Tennessee and has since faded into the shadows. In 2010, Moss managed a meager 393 receiving yards with 5 receiving touchdowns.
Brett Favre – All good things have to come to an end, but that doesn't mean they can't end with grace and dignity! I guess nobody told the 42 year ol' QB that. He disappointed his fans not only through his on field performances but through his off field actions as well. 2010 highlighted his inappropriate and downright creepy photography and texting scandal, as well as his 13 interceptions in 8 games. He was a great player, but he ruined his reputation and the people's expectations through his extremely questionable conduct.
For more information on Brett Favre, go to:
en.wikipedia.org