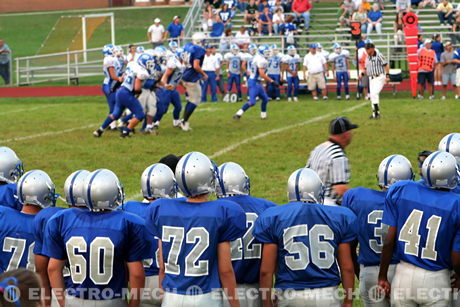 Picking from where we left off in the previous article of this football scoreboards feature, I have taken a look at the most disappointing draft picks for the remaining teams in the NFL from the last decade.
27. Bobby Carpenter, LB: Dallas Cowboys – he was the 18th pick in the 2006 draft. In the 4 years (and 58 games) he played for the Cowboys, he never managed a single forced fumble from the opposition nor an interception.
28. Alex Smith, QB: San Francisco 49ers – he was the 1st pick in the 2005 draft. This time around, it was the player who was unlucky to be drafted by a struggling team. Smith is not without talent; however, there have been instances where he hasn't helped himself either. He has 14 touch downs, 10 interceptions, 2,370 yards and a QB rating of 82.1 to his name.

29. Lawrence Jackson, DE: Seattle Seahawks – he was the 28th pick in the 2008 draft. It took him only 2 years to prove him as the most disappointing draft pick for the Seahawks in the last decade. In his 2 years with the Seahawks, he managed exactly zero interceptions, zero safties and 6 sacks.
30. Trung Canidate, RB: St. Louis Rams – he was the 31st pick in the 2000 draft. This was considered a wasted pick, and nobody understood why they would draft Trung Canidate when they already had Marshall Faulk with them. The accusation is highlighted by the fact that the Rams have used Trung Canidate only 3 times to start a game in as many seasons.
31. Gaines Adams, DE: Tampa Bay Buccaneers – he was the 4th pick in the 2007 draft. He played for 2 seasons with the Tampa Bay Buccaneers before they traded him. The reason for the trade must have been some inside scuffle because his stats with the Buccaneers were pretty decent at 64 tackles, 23 assists and 2 forced fumbles. However, sadly one year after leaving the Buccaneers, Gaines Adams died from a cardiac arrest.
32. Patrick Ramsey, QB: Washington Redskins – he was the 32nd pick in the 2002 draft. The 4 seasons he played for the Washington Redskins, he managed 35 touch downs with 5,649 yards, a passing average of 6.5 and 29 interceptions accompanied with 28 fumbles and 14 lost fumbles. Since his Washington Redskins days, he has played ZERO games as a backup QB for Tennessee Titans, Detroit Lions, Jacksonville Jaguars, Miami Dolphins and Minnesota Vikings. After the Washington Redskins, he started only 4 games: 3 with the Denver Broncos in 2 seasons and 1 with the New York Jets in 1 season.
For more information, go to:
http://www.nfl.com/draft/2011