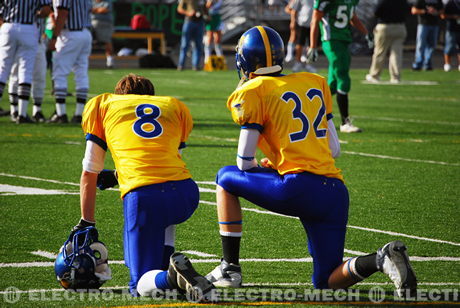 In this football scoreboards article, I have taken a look at who the rest of the NFL teams drafted during the 3 days to bring in new talent and bolster their teams.
Jacksonville Jaguars – the Jaguars came into D-Day looking to bolster their QB, safety, DE and LB positions. They filled in their QB spot with Blaine Gabbart, who was in the top 3 of the most accurate QBs coming into the NFL Draft 2011. Next, they drafted OG William Rackley, WR Cecil Shorts, S Christopher Prosinski and CB Roderick Issac.

Kansas City Chiefs – the Chiefs needed a good pass rusher, WR, DT, QB and tackle. They drafted WR Jonathan Baldwin; however, in my (and everyone here at football scoreboards) opinion, his reputation and personality makes it seem like that the Chiefs may have bitten off more than they would like to chew. Next, they drafted OC Rodney Hudson, DE Justin Houston, DE Allen Bailey, CB Jalil Brown, QB Ricky Stanzi, OLB Gabe Miller, DT Jerrel Powe and RB Shane Bannon.
Miami Dolphins – the Dolphins entered the 2011 drafts with their sights set on filling the team's offensive line, RB and QB positions. Hence, they began by drafting OC Mike Pouncey, RB Daniel Thomas, WR Edmond Gates, FB Charles Clay, DT Frank Kearse and DB Jimmy Wilson. Clearly, they forgot they had to shop for a QB, or maybe they just didn't think it an important enough position to spend their money on!
Minnesota Vikings – coming into D-Day the Viking were ready to search for a competent QB, WR, CB, NT and DE. The Vikings had to make a huge leap to snatch QB Christian Ponder, which they accomplished. Later, they drafted TE Kyle Rudolph, DT Christian Ballard, CB Brandon Burton, OT Demarcus Love, S Mistral Raymond, OC Brandon Fusco, OLB Ross Homan, DE DeAundre Reed and WR Stephen Burton.
New England Patriots – the team deduced they were lacking in terms of an OLB, RB and their offensive line. To cater to their needs, they drafted OT Nate Solder, CB Ras-I Dowling, RB's Shane Vereen and Stevan Ridely, QB Ryan Mallet, OT Marcus Cannon, TE Lee Smith, DE Markell Carter and DB Malcolm Williams.
New Orleans Saints – they Saints were in need of a pass rusher, RB, OLB and a tackle. They kicked off their drafting by selecting DE Cameron Jordan, RB Mark Ingram, OLB Martez Wilson, CB Johnny Patrick, DE Greg Romeus and OLB Nathan Bussey.
New York Giants – coming into the NFL Draft 2011, the team were lacking in the RB, CB, Offensive Line and LB departments. They started their draft by selecting CB Prince Amukumara, DT Marvin Austin, WR Jerrel Jernigan, OT James Brewer, ILB Greg Jones, S Tyler Sash, LB Jacquain Williams and RB Da'Rel Scott.
For more information, go to:
http://www.nfl.com/draft/2011