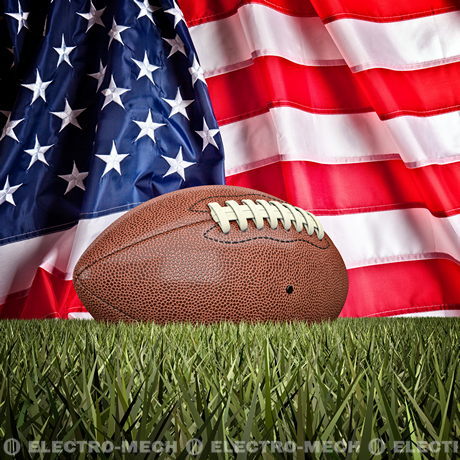 Football scoreboards are an important part of the sport, and this equipment make football games more appealing and enjoyable for the fans that come to cheer their team on. Buying a new football scoring system which meets all your requirements does not have to be difficult or confusing when you use Electro-Mech for your sport scoring needs. Electro-Mech has close to fifty years of experience in the electronic scoreboard industry, and offers the finest scoreboards and most modern technology you will find anywhere. Customers and clients are treated like extended family, and close attention is paid to your needs and requirements so that the right scoreboard is chosen every time. A new football scoring system is a big decision, and a major investment, so careful thought needs to be given to all aspects of this equipment before you buy.

Electro-Mech offers a wide variety of football scoreboards, and these can be customized in almost any way you could possibly want. You can choose from wired or wireless equipment, depending on whether you are concerned about a multitude of wires becoming a safety hazard. LED lighting will keep your scoring equipment bright and attractive for years to come, and cut down on the operation and maintenance costs as well. You can even choose your own scoreboard colors, design, and logo, so that this equipment reflects your school and football team perfectly.
A new football scoring system for your school or sports facility can have many advantages. If you add advertising spaces then you will usually recover the initial equipment cost and investment expense within a few years because of an increase in advertising revenue generated by the new scoreboard. Many local businesses will pay to advertise in these spots and have their business seen. Football scoreboards from Electro-Mech can be designed to include any number of ID panels and customization options you might need. You can create a scoreboard system that meshes perfectly with your athletic program, and that contains all the components you are looking for at a cost that is very low when the quality of this equipment is considered.
You may find that Electro-Mech does not always have the cheapest football scoreboards around, because only high quality materials and skilled technicians are used in these products, but they do offer equipment and customer service that is among the best you will get anywhere at a price that is very competitive and reasonable. A new football scoring system can make your school or facility a place that draws in many more fans and students, and that can earn much higher revenue from football games and other events. You may even find that with this show of support the team plays better and has better results as well. If you are looking for new scoring equipment look at all the components and factors, and determine what features you want and which features are not really necessary. This will help you find the right equipment from Electro-Mech, and choose which model or customization options you really want and need for your football purposes.