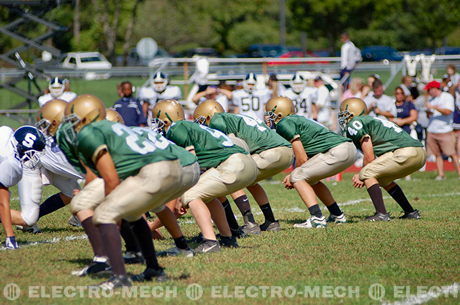 In a football scoreboards feature, I have listed the most important football equipment, and the best places to find them.
Whether you are a long standing football player or are just entering the game after your first high school football try outs, one thing is a given: you need to know the equipment and the best places to find it! With the crazy revolution that is online shopping, most of the sporting shops have no physical existence, because they exist only in the virtual world and are only a click away from you. So here is a football scoreboards list of which store sells the best football equipment:

1. Helmets – the helmets are so important that it would be fair to say that the helmet alone makes up half of the equipment. If the helmets aren't sturdy and tough, you can kiss your head good bye or say hello to a concussion on your first serious hit! You can find the best helmets at Sports Authority chains, Online Sports (Web shop, if you didn't already figure
it out) and Dick's Sporting Goods. However, when you buy a helmet make sure you also buy the face mask because they are sold separate from the helmet. The best helmet brands are Schutt Sports, Nike, Adams USA and Riddell.
2. Shoulder Pads – if you don't have good shoulder pads, then I seriously advise you to get off the field a.s.a.p! Sport Authority and Online Sports house a big number of all protective pads of all shapes and sizes and of varying price ranges. Just like helmets and face masks, shoulder pad accessories are to be purchased separately from the shoulder pads. The top brands for shoulder pads are Douglas, Football America, Schutt Sports and Rawlings.
3. Protective Pads (pants, arms, shirts etc.) – you need these pads to protect your arms, legs, chests etc which is why you need a set that is sturdy but not too hard that it becomes difficult for you to maneuver in it. Footballamerica.com and sports authority house a wide variety of all kinds of protective pads. The best brands include Adams, McDavid, Nike and Under Armour.
4. Training Aids – even in the off-season your team and you cannot sit idle, which is why you need to have good training aids to help you keep in shape. Training aids such as the agility speed ladder, power speed sled, weighted training shorts/vests etc are some of the most common in the fields. You can find the best brands such as Coaches Choice, Fisher, and Sparq at Online Sports, Football America and Dick's Sporting Goods.
The above listed are the most important pieces of equipment that you as a player or team would need. Other equipment such as cleats, gloves, jerseys and shoes can be bought at any of the stores already mentioned above, or at NFL's official online sports shop.
For more information, go to:
http://www.nflshop.com/home/index.jsp