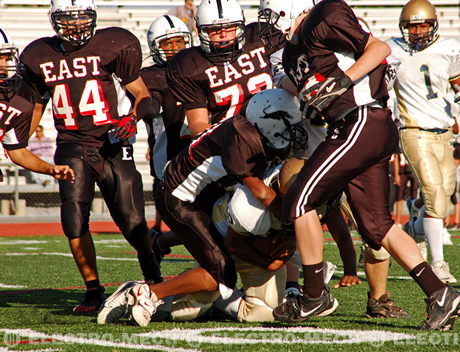 The 2011 NFL draft is now in the books, the teams have drafted the players with the most potential in a step towards replacing the old team players who have long since lost their zing! However, at the same time there are players who are at their prime and as of yet have no danger of being replaced because they are just too valuable for the teams. In this football scoreboards feature, I have taken a look at the top 5 players who aren't going anywhere soon.
5- San Francisco 49ers, LB Patrick Willis – ever since he was drafted by the 49ers in 2007, he has cemented his place in the team as an irreplaceable part of the defense. Besides having the talent and ability, he has the traits essential for mustering a solid defense. He is a methodical and aggressive player; exactly the mix a team seeks in a player to lead a strong defense. The football scoreboards show that in his 4 years with the 49ers, he has managed 595 tackles.

4 – Atlanta Falcons, QB Matt Ryan – he was drafted in 2008, and ever since has made sure to prove that the Falcons made the right decision when they selected him. In 3 short years, he has managed 10,061 yards, 66 touchdowns and a QB rating of 86.9. He is a very strong candidate for the future Hall of Fame, if he continues with his current performance for at least the next 5 years. If the Falcons give him the complete support he needs, Ryan will probably take them to the Super Bowl, if not win it.
3 – Arizona Cardinals, WR Larry Fitzgerald – drafted in 2004, Fitzgerald has managed 8,204 yards and 65 touchdowns. Even without a quality quarterback, Fitzgerald managed 6 touchdowns and 1,137 yards in 2010. His willingness to make difficult catches and his speed make him an irreplaceable part of the Cardinals regiment. Now, only if they get a better QB to throw to him, the Cardinals can become a force to reckon with.
2 – Green Bay Packers, Aaron Rodgers – in 2010 alone he had a rating of 101.2, 3,922 yards and 28 touchdowns; is it any wonder that the Green Bay Packers took away the Lombardi under Aaron Rodgers? Since he joined the Packers' pack, he has had to overcome many problems and those obstacles have made him into the leader he is today. From living under a great QB's shadow (Brett) to a poor offensive line and difficult decisions, Aaron Rodgers reminds everyone in every game why he is one of the most irreplaceable players in NFL today!
1 – Baltimore Ravens, Ray Lewis – the fact that ever since his draft, 16 years ago, the Ravens haven't ever looked back on their decision, speaks a lot about a player's importance to the team. There sure is no "I" in team, but if there weren't a Ray Lewis in the Ravens team, the Ravens would not be the same! More than his career stats, it is his sportsmanship, his personality and utter love for the game of football that makes him the heart of the Ravens and inexplicably irreplaceable.
For more information on the NFL, go to:
http://www.nfl.com/