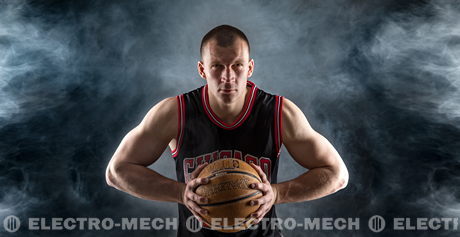 The gear that a basketball team wear is easily available for the average fan and consumer
Basketball sneakers like the Air Jordan's have become a regular sight on basketball courts around the nation

We all want to be like our favorite athletes that we see lighting up the basketball scoreboards, right? While many of us can't quite get the athletic prowess they posses, we sure can mimic their clothing.
The question of "What do basketball players wear?" has been asked by many parents searching high and low for a particular item requested by their child. I'm sure every parent has been in a similar position when shopping for the right item. Styles and brands come and go so fast and frequently, it's often hard to keep up. It seems that basketball styles change often and even more frequently than the latest runway fashions.
If you asked the average person what basketball players wear you're most likely to hear sneakers as their first answer. Basketball sneakers exploded into popular culture with the Converse Chuck Taylor's and then with the Air Jordan's. When those sneakers debuted in 1984 they revolutionized the concept of a basketball shoe. New versions have been released year after year and to date, remain a top seller for Nike. Reebok produce a sneaker called the Pump that you could "pump up" to achieve a custom fit around your foot in an effort to compete with Nike. Unfortunately it didn't quite pan out that way for Reebok and the sneaker was discontinued after a few years.
Today's players favor large, baggy shorts and jerseys rather than the high riding shorts and tight fitting tank tops of the past. Companies such as Nike, Adidas and Reebok are all major players in the basketball apparel retail market. Not only do these companies sell basketball shorts and jerseys of your favorite teams, they also sell other team sanctioned items such as warm-up jackets, socks, t-shirts and hats. These companies also produce basketball warm-up pants. The main advantage of warm-up pants is their ability to fit over sneakers. By manufacturing the pants with either a zipper or series of buttons along the leg, the player has the ability to remove the warm-up pants without taking off his sneakers.
Unlike other sports like hockey and football, a basketball player does not require a tremendous amount of equipment. All you really need to play, besides a basketball and hoop, are a good pair of sneakers, shorts and a t-shirt. As new materials and fabrics become available, companies like Nike, Reebok and Under Armor are quick to incorporate them into their latest designs. The latest rage are "dry-fit" t-shirts pioneered by Under Armor but available through Nike and Reebok as well. These under shirts have the ability to wick moisture away from the body while the fabric stays dry. The reason why basketball players wear this type of shirt is that they actually cool the body down while providing a superior level of comfort.
What basketball players wear will continue to change as the game itself continues to evolve. Looking back at the history of the basketball sneaker, for example, shows that there has been some remarkable advancement in the last few decades alone. I'm sure the next decade will provide as many revolutionary basketball shoe designs as the last decade.